If you've never quite gotten over the loss of spending weekend mornings with Melissa Harris-Perry's late, great, eponymous show on MSNBC, you are in luck. On Monday, WNYC Studios and PRX announced that Harris-Perry, who has been serving as interim host of nationally-syndicated public radio news show The Takeaway weekday mornings since June 2021, has been named its permanent host and managing editor, effective immediately.
"Audiences trust The Takeaway to deliver critical information about the day's news. The real strength of the show is to expand our views through bold, empathetic conversation on topics of justice, politics, and power, and where it all intersects with us personally," said Kerri Hoffman, CEO of PRX, in a press release provided to The Root. "Melissa has served as a remarkable host of The Takeaway for the past few months and we're thrilled that she will continue to lead the show into the future."
Airing weekdays on WNYC AM and WNYC FM as well as on over 300 stations nationally, leading The Takeaway will place Harris-Perry among a roster of media stars that include Brian Lehrer (of the Peabody Award winning The Brian Lehrer Show) and popular programming like Dolly Parton's America, is just the latest feather in the cap of the veteran journalist and academician. In addition to being one of The Root's earliest contributors and hosting her own award-winning show on MSNBC from 2012-2016, the release notes that her two decade-long career has included writing for the Wall Street Journal, New York Times, Chicago Tribune, and in columns for Essence and The Nation. Harris-Perry also served as editor-at-large for Elle.com and for Medium's ZORA, then led by The Root's current editor-in-chief, Vanessa De Luca.
With regard to Harris-Perry's career as an educator, she has served on the faculties of the University of Chicago, Princeton University, and Tulane University, the release notes. Currently, she is the Maya Angelou Presidential Chair in the Department of Politics and International Affairs, the Department of Women's, Gender, and Sexuality Studies, and the Program in Environment and Sustainability at Wake Forest University. Harris-Perry is also founder and president of the Anna Julia Cooper Center, "whose mission is to create programming, content and research that drives scholarship and action."

Of joining the team at WNYC, Harris-Perry said in a statement:

WNYC is an extraordinary institution that produces journalism of unparalleled breadth, diversity, integrity and impact. Hosting The Takeaway is an astonishing and humbling opportunity. The Takeaway enjoys a truly authentic relationship with our listeners, and that community makes this hosting experience especially rich and rewarding. I'm excited to create captivating radio with the dedicated, creative, and professional team of The Takeaway each day. And I must admit, I am nerding out about the chance to call Brian Lehrer my co-worker.
G/O Media may get a commission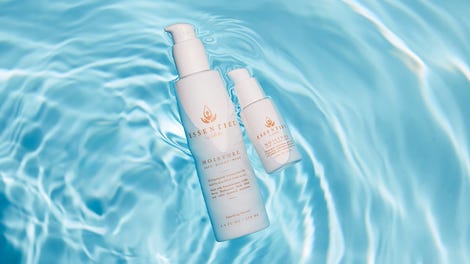 20% off
Essentiel by Adele
"Melissa's north star has always been the impact of world events on the lives of people, often those whose stories have been left out of the media," said Goli Sheikholeslami, president and CEO of New York Public Radio, which oversees WNYC Studios. "She is the perfect host for The Takeaway, a show dedicated to voices and perspectives often overlooked in broadcast media, and we're excited to work together to expand our service to a broader audience."
 The Takeaway airs on WNYC AM 820 at 9am weekdays, on WNYC 93.9FM at 3pm weekdays, and on over 300 stations nationally. For more information, visit the show's website.