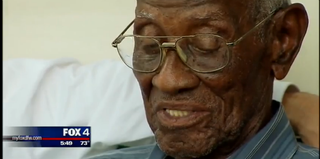 America's oldest living World War II veteran, Richard Overton, is 107 years old (and doesn't look a day over 90), served in the South Pacific and enjoys up to 12 cigars a day and whiskey in his coffee.
He's clearly not one to be messed with, so we're glad that Gov. Rick Perry decided to pay him a visit at his Austin, Texas, home — a much more respectful choice than the Republican's N—gerhead hunting lodge.
Watch coverage of the visit here:
Read more at the Huffington Post.