West African Accuser Loses Sympathetic Status
The hotel maid who accuses Dominique Strauss-Kahn of forcing her into a sexual encounter has lost her status as a sympathetic figure in the American media as reporters and prosecutors say they have uncovered inconsistent statements and lies about her past.
" 'Until today, it was white versus black, rich versus poor, man versus woman, Jew versus Muslim,' said Elaine Sciolino, a New York Times correspondent in France and the author of 'La Seduction,' assessing the French reaction and the fraying of the Gallic Anita Hill moment," Maureen Dowd wrote Sunday in the Times.
" 'Now it's going to be this man who would have been president taken down by this nogoodnik who has a druggie boyfriend in prison and who lied from the moment she tried to get into the United States.' " Her column was headlined, "When a Predator Collides With a Fabricator."
France's The Journal du Dimanche called the development "The U-turn of the American Media," according to Steven Erlanger, writing Sunday in the Times.
The Strauss-Kahn case has attracted journalists around the globe — from Norway, the Philippines, Germany, France, Japan and China, according to Assistant Chief Walter Glowacz of the New York Department of Public Safety for the Courts.
G/O Media may get a commission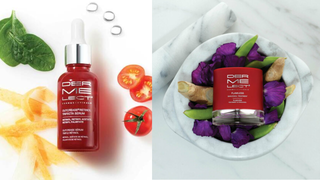 Save $19
Retinol Renewal Kit
Cynthia Magnus, writing last month for the website Downtown Express, quoted David Bookstaver, communications director for the New York State Courts as saying, "I have never seen a press assemblage like this."
And that was before the latest revelations.
The New York Post, which in May ran such headlines as "PERV? MOI?" over a photo of Strauss-Kahn and "HORNY TOAD REMAINS EAGER TO SLEAZE," now calls the Guinean immigrant a "so-called victim" after trumpeting its story, "Maid cleaning up as 'hooker'," attributed to "a source close to the defense investigation."
"The Sofitel housekeeper who claims the former IMF boss sexually assaulted her in his room was doing double duty as a prostitute, collecting cash on the side from male guests, The Post has learned," Laura Italiano reported on Saturday.
". . . Allegations that she worked as a hotel hooker may explain why Strauss-Kahn insists their encounter was consensual."
The Post followed that up with a story Sunday by Brad Hamilton and Larry Celona reporting that the accuser "continued to work as a prostitute in a Brooklyn hotel where she was stashed by prosecutors. . . ."
"The so-called victim, whose web of lies has crippled the Manhattan DA's case against the former International Monetary Fund boss, played host to a parade of paying male visitors in the weeks after Strauss-Kahn's arrest, a prosecution source said," they wrote.
A third story Sunday, by Hamilton and Cathy Burke, began, "She had dollar signs in her eyes.
"Before she ever walked into Dominique Strauss-Kahn's dazzling suite at the Sofitel, his accuser was well aware of his VIP status — and planning to get her hands in his deep pockets, sources told The Post."
Daniel R. Alonso, chief assistant district attorney, told Bloomberg News there was no evidence to support the Post's report that the accuser is a prostitute or targeted Strauss-Kahn for financial gain, Bloomberg's Karen Freifeld reported on Monday.
Even without the New York Post allegations, the inconsistencies and revelations about her associations and her past led some writers to draw comparisons with the Duke University lacrosse case, which also had racial overtones.
Three white players on the Duke team were indicted in 2006 on charges of rape, kidnapping and sexual offense. A black woman hired to strip at a team party accused the three of attacking her in a bathroom. The case fell apart when the woman changed her story repeatedly and her account did not add up. Mike Nifong, district attorney of Durham County, N.C., stepped down, ending a nearly 30-year career as a prosecutor.
Then, as now, most in the news media withheld the woman's name in keeping with a belief that naming her would victimize her twice and discourage others from coming forward. When she was exposed as having fabricated her story, news outlets named her.
To recap: As John Solomon reported Sunday in the Daily Beast, "The maid originally alleged that on May 14, Strauss-Kahn, one of the world's most powerful men as a leading candidate for president of France and then-director of the International Monetary Fund, exited a shower in his luxury suite at the Sofitel hotel in New York City, grabbed her from behind and sexually assaulted her after she entered to clean his suite.
"Bolstered by significant forensic evidence that included Strauss-Kahn's DNA, prosecutors in the Manhattan district attorney's office secured an indictment just days after the attack. But in recent weeks, their case began to unravel as investigators dug deeper into how the maid immigrated to the United States under a political asylum claim that included some false information."
The New York Times first reported the imminent unraveling in a June 30 story by Jim Dwyer, William K. Rashbaum and John Eligon that said "the parties are discussing whether to dismiss the felony charges. Among the discoveries, one of the officials said, are . . . possible links to people involved in criminal activities, including drug dealing and money laundering."
The development led to stories questioning the effectiveness of Cyrus R. Vance Jr., the Manhattan district attorney.
Kenneth P. Thompson, lawyer for the accuser, is perhaps best known as the federal prosecutor who brought the criminal case against New York police officers for brutalizing Haitian immigrant Abner Louima in 1997. Thompson told reporters Friday that even if there were problems with the woman's statements about her personal history, there was ample evidence that a sexual assault had occurred.
Regardless of the outcome of the case, race and class issues will remain a part of it.
French writer Bernard-Henri Lévy, an outspoken friend and defender of Strauss-Kahn, "told Le Parisien that Strauss-Kahn had been 'lynched' by the 'friends of minorities' in the U.S. He said that because the victim was 'poor and immigrant' she had been presumed innocent, and because Strauss-Kahn was 'powerful' he had been presumed guilty," according to Amy Davidson, writing in the New Yorker and quoting Britain's Guardian newspaper.
After the Duke lacrosse case, Linda Williams, an editor at the News & Observer in Raleigh, wrote to her colleagues, "As the case unfolded over time, I have detected a racial divide, but it is not about the core facts of the case. A very large number of blacks seem detached from the case, but many whites are in overdrive. The blacks who are paying attention have a different view of the meaning of the case than whites. While whites see a righteous crusade for justice, blacks see a massive display of white power and a media responding to that power with unprecedented coverage.
"As a result of this view, blacks do not see this case as significant for the justice system. They do not see better outcomes for them and their [loved] ones should they be falsely accused."
Davidson wrote in the New Yorker: "Friends of minorities? Is it simply that Levy misjudges, rather profoundly, the precarious positions in which poor and powerless [women] in America — or in Guinea, or anywhere — can find themselves? He does seem very worried about the risks to powerful men; but perhaps he needn't be."
And then there is the matter of identifying the accuser.
As reported here in May, Geneva Overholser, director of the University of Southern California's Annenberg School of Journalism, has long believed that accusers ought to be named.
". . . Mostly, I am stunned that we would think we are in a position, as journalists, to decide who the victim is (the one deserving protection) in a case that has yet to go to trial."
* Agence France-Presse: Strauss-Kahn defence insists 'no dispute' on money
* Al Baker, New York Times: How Now-Shaky Case Against Strauss-Kahn Once Seemed So Solid
* Kris Broughton, bigthink.com: Why The Hell Is Strauss-Kahn Wearing A Halo All Of A Sudden?
* Christopher Dickey, the Daily Beast: DSK Accuser's African Connection
* Christopher Dickey, the Daily Beast: The Maid's Prison Connection
* Sam Dolnick, New York Times: Accuser's Fellow Guineans Express Bewilderment
* Maureen Dowd, New York Times: Powerful and Primitive (May 17)
* Steven Erlanger, New York Times: French See Case Against Strauss-Kahn as American Folly
* Christian Fraser, BBC: Strauss-Kahn effect: French harassment claims increase
* Alison Gendar and Lukas I. Alpert, New York Daily News: 'Nothing' indicates Dominique Strauss-Kahn's hotel maid accuser was 'targeting him' says source
* Stephane Jourdain, Agence France-Presse: Immigrant community divided over Strauss-Kahn accuser
* Foster Kramer, New York Observer: A List of Adjectives and French Puns Used by NYC Tabloids Regarding Dominique Strauss-Kahn (May 20)
* Reuters: Maid in Strauss-Kahn case pares down legal team
* Julianne Escobedo Shepherd, AlterNet: New York Post Perpetuates DSK Accuser "Hooker" Story, While DSK Enjoys July 4 in the Hamptons
* John Solomon, thedailybeast.com: Did DSK's Accuser Have a Financial Motive?
* Emma-Kate Symons, the Australian: Feminists exposed by rush to judgment
"About a month ago, I wrote a blog about Tavis Smiley and decided to table it because I said some things I didn't want to publish," syndicated radio jock Tom Joyner wrote Friday on his blackamericaweb.com blog.
"You're probably thinking I went too hard him, but no. In reality, I hadn't gone hard enough — and I knew it. I said I'd wait until something pissed me off so bad that I would have the words harsh enough to express what I was really feeling about him and his side piece — I mean side kick — Cornel West.
"Well, yesterday, when Mark Halperin — a well-respected journalist, employed by a well-respected magazine and a contributor to a well-respected news network — had the audacity to call the president of the United States a dick, that was all I needed.
"While I am appalled at Halperin's statement . . . I'm even more disgusted with Smiley and West, two brothers who I did have expectations of — and thought I knew. These two have done much worse than what Halperin has done because they set the tone for it, opened the door to it, and must take much of the blame for creating a climate that would make a white, professional journalist feel comfortable verbally and vulgarly attacking the first black president of the United States."
While Halperin has the title of editor-at-large at Time magazine, he does not supervise or assign stories.
* Ta-Nehisi Coates blog, the Atlantic: 'Empty Beltwayism'
* George E. Curry, National Newspaper Publishers Association: Ostracizing Black Leaders Who Criticize Obama
* Roland S. Martin, Creators Syndicate: Obama, Dems: This is Your Economy; Deal With It
* Askia Muhammad, Washington Informer: Republicans Act Like 'Deadbeat Dads'
* Clarence Page, Chicago Tribune: Obama's uncommon scold
* Tim Rutten, Los Angeles Times: The Mark Halperin affair
"As the push to overthrow [Moammar] Gaddafi has stalled, journalists have increasingly borne the brunt of the frustrations of Libya's rebels," Steven Sotloff reported for Time magazine.
"Although the foreign press was eagerly welcomed just months ago, reporters in rebel-controlled areas have recently been harassed and intimidated. Officials of the rebel-led National Transitional Council (NTC) have steadily begun to treat correspondents as hostile elements: some have been prohibited from filming bomb scenes; others have been accused of being spies.
"In several incidents in the months following the February uprising against Gaddafi, rebels have prevented journalists from recording events they consider embarrassing. For example, when a skirmish erupted in March after one fighter ordered another to stop firing an antiaircraft gun outside the town of Brega, which is about 130 miles (210 km) west of the rebel capital, Benghazi, other rebels kept correspondents from filming the incident. On another occasion, journalists were prevented from photographing a rebel who accidentally shot himself in April near Ajdabiyah, approximately 95 miles (155 km) west of Benghazi."
"One of the newest ideas to bubble up in the effervescent New York City media market is a site with a tight focus and a wide reach," Joe Grimm wrote for the Freedom Forum Diversity Institute.
"OurChinatown, launched this spring, is an Asian American Journalists Association demonstration project.
"The strategy for OurChinatown is to distribute news — and to let the community contribute — by smartphone. Phones are a next-up tool for journalism and are the technology of choice for some communities. They are everywhere in sight on the streets of Chinatown.
"The vision is a low-cost, mobile news network where a reporting team writes, takes photos and videos, edits them and posts them on the fly with smartphones. It is envisioned that community members will be able to see where reporters are on a digital map, feed them information or post their own news updates and photos."
Grimm also wrote about the Living Textbook project in Dearborn, Mich.
"It has been fascinating for me to spend this school year with 29 seventh graders, 28 of whom are Arab American, doing journalism," Grimm wrote.
"The Living Textbook is a demonstration project proposed by Dinah Eng, founding director of the Asian American Journalists Association's Executive Leadership Program and a columnist for Scripps Howard News Service.
"The class is at McCollough-Unis School in Dearborn, Mich., and is funded by the McCormick Foundation and The Ford Foundation. The idea is to help students learn about journalism and to post their stories, photos and videos online. I am co-director of the project with Emilia Askari. We worked together at the Detroit Free Press for years."
"In the Filipino American community, 'fear and shock were the initial reactions' to journalist Jose Antonio Vargas' disclosure two weeks ago that he is in the United States illegally," according to Bing Branigin, director of media outreach for the National Federation of Filipino American Associations. Vargas' parents brought him to the United States when he was 12.
'It was like, "What?!" They're shocked, surprised and now more like fear, like what's going to happen to him,' said Branigin," Raul Rodriquez reported Friday for New America Media.
"Other Filipinos see it as 'another Filipino trying to make it in America illegally,' according to some Filipinos interviewed by Don Tagala, a news reporter and videographer for ABS-CBN.
"Many Filipinos lacking U.S. papers fear the suspicion Vargas' case may cause directed at Filipino immigrants.
" 'Some undocumented Filipinos wish he [Vargas] should've just shut up,' Tagala said several told him. Fearing that the U.S. Immigration and Customs Enforcement (ICE) will start pursuing them, he said, 'They're more afraid now that he has told his story. Filipinos are not going to live a quiet life being undocumented.'
"Among Filipino journalists, however, 'reactions were mostly positive,' said Esther Chavez, U.S. sales director at Inquirer.net. 'The only negative [may be] the apprehension that more scrutiny will be made on journalists applying or already employed.' Undocumented Filipino journalists echoed similar concerns.
" 'They are worried that what Jose did will shine a light on undocumented journalists. Many of the Filipino reporters are just trying to work and live in the shadows,' said Cristina Pastor, founding editor of The FilAm, a new online magazine for Filipino Americans in New York."
* Ruben Navarrette Jr., CNN: New life for the DREAM Act?
* Mónica Novoa, ColorLines: Jose Antonio Vargas Came Out as Undocumented, NOT "Illegal"
* Phuong Ly, Poynter Institute: Vargas' essay renews attention to media's use of 'illegal' & 'undocumented'
* O. Ricardo Pimentel blog, San Antonio Express-News: Rich irony on DREAM Act
* Ruben Rosario, St. Paul (Minn.) Pioneer Press: Celebrated immigrant Vargas' success built on lies, subterfuge
* Albor Ruiz, New York Daily News: Their passion and drive keeps DREAM Act alive
* Mary Sanchez, Kansas City Star: How do we deport 11 million people?
"Cloves C. Campbell Jr., the newly elected chairman of the National Newspaper Publishers Association (NNPA), said one of his most-important goals is to get member newspapers to publish some of their content online [5th item] or at least launch websites to take advantage of business opportunities," the North Star News reported on Friday.
" 'We have lost a lot of revenue by not offering online products,' Campbell said. 'We are looking for members to go digital or at least have a website.' Initially, he wants member newspapers to move to digital publishing yet at the same time publish print editions to meet the needs of the newspapers' online and print audiences.
"Campbell, publisher of the Arizona Informant, which is based in Phoenix, made his comments on Friday, following his election to a two-year term during NNPA's 2011 Annual Convention June 22 -25 in Chicago. Campbell succeeds Danny J. Bakewell, Sr., publisher of the Los Angeles Sentinel."
In another development, Campbell said NNPA had signed a three-year agreement with the Nielsen Co. in which the firm's executives will provide a once-a-year report on buying trends by African-American consumers [6th item.] Campbell "said the agreement is significant because Nielsen's data will eliminate many of the challenges faced by NNPA members who seek advertising and marketing support from companies based on their sales to black consumers," according to the North Star News.
The more likely move would be from a newspaper's features department to its editorial page, but Rose Russell did the opposite at the Toledo Blade this year.
She tells Journal-isms both have their virtues: "Journalists should strive to be in editorial departments," Russell said by email. "In nearly 16 years in The Blade's editorial department, I learned much about the nuts and bolts of our nation. Though pondering politics, policy, and other details of infrastructure is consuming, the experience provided me insight that I might not otherwise have obtained.
"While there, I met and sat in on editorial board meetings with a young African-American from Illinois who had the audacity to be candidate for president of the United States; with billionaire George Soros who spent millions trying to keep George W. Bush out of the White House for a second term, and I met the Rev. Jesse Jackson during one of his campaigns for the less fortunate in Toledo.
"As a columnist, I embraced the fight for democracy that a remarkable woman named Aung San Suu Kyi has given her life to in Myanmar; I wrote often about Indonesia and began to witness Muslims' increasing impact on the world. In the aftermath of 9/11, it became more apparent to me that America's racial divide has more to do with economics than skin color.
"It was time for a change . . . and after a series of events, some of them quite disappointing, my move came at the perfect time. I had been thinking about doing something different for about a couple of years anyway, and quite honestly, I had thought about features. The move has been an answer to prayer, and it has proved positive for me, and I want to believe, to The Blade.
"One recent afternoon a colleague told me: 'You have been writing up a storm.' I have been. I'm meeting fascinating people doing interesting things with their lives. I have interviewed the Rembrandt expert about one of the 17th century artist's paintings; I spoke to CBS News' chief national correspondent Byron Pitts about his amazing story about stuttering, and I have talked with a woman trying to help families communicate with their elderly loved ones with memory loss.
"So yes . . . there is life after editorial, and it's pretty glorious. Editorialists and columnists looking down from their seats in Ivory Towers don't have to be so up in age that they should expect to retire from the seemingly dull gray world of Editorial. The colorful world of the features department has helped me to remember what makes America so great: its people and what they do. Editorial was terrific. It made me grow up as a journalist, you might say. Now I have a more mature and better rounded writer's view that I believe benefits our readers.
"Clearly, my experience proves how vital is every department at newspapers. We need the news, sports, business, editorial, and features departments to give readers a full and complete view of what's happening around them."
"On behalf of The Rhinoceros Times, I apologize for the offensive political cartoon in the June 23 edition of The Rhinoceros Times," John Hammer, editor-in-chief of the Greensboro, N.C., publication, wrote on Thursday.
"The cartoon appears to be two black male prisoners using poor grammar talking about being in jail. The males are supposed to be two white men. The color that was used for these cartoon characters is the exact same shade that this paper used for Guilford County Manager Brenda Jones Fox in the May 19 edition, but as it appears the cartoon is offensive.
". . . Although we cannot do anything about the papers that have been printed, we removed the colorized cartoon from the website and replaced it with the original pen and ink drawing, which we find acceptable."
"We have also included the original pen and ink version of the cartoon here so that our readers can see for themselves what our intent was."
In the comments section, one reader wrote, "What about all of the white people, we have feelings too. . . ."
Another said, "Apology accepted. BTW — I'm not offended, although I look exactly like the guy on the right… LOL"
* Nick Ut, an Associated Press photojournalist best known for his Pulitzer Prize-winning image of Phan Thi Kim Phuc running away naked from a napalm attack in 1972, is to be awarded the Lifetime Achievement Award from the Asian American Journalists Association, AAJA announced.
* After a 16-month run, public television station WHRO-TV in Norfolk, Va., announced that "Another View" will be discontinued as a TV show. "President and CEO Bert Schmidt blamed a $350,000 line-item budget cut by Gov. Bob McDonnell," David Squires wrote Wednesday for the Daily Press in Newport News, Va. "But you have to wonder if some creative use of the station's remaining $1.5 million might have preserved the area's program dedicated to African-American-oriented issues."
* Larry Jackson and Toroes Thomas are just $920 away from their goal of raising $5,000 to document a trip to China by six students from Baltimore's inner city who attend Carver Vocational Technical High School. They leave Thursday morning, said Dean Lynes, who trains young people in broadcast production for the Baltimore City Public Schools. More information at www.baltimoretochina.com.
* "July 4th marks the forty-fifth birthday of the Freedom of Information Act (FOIA)," Michael R. Lemov wrote for Nieman Watchdog. "Passed by Congress in 1966, and reluctantly signed by President Lyndon B. Johnson on the last day before it would have been pocket-vetoed, FOIA has revolutionized public access to government documents and records. It was used last year more than 590,000 times, by news organizations, citizens and businesses. They mostly succeeded in obtaining the government information they sought. But at age 45 FOIA faces a new world and new challenges."
* Ray Metoyer, an Atlanta broadcast producer, blogged Friday on Cascade Patch: "I don't normally watch Piers Morgan on CNN, but he was advertising a Monday night interview with Beyoncé, who is back on the scene after taking a year off to rest. But during the interview, I was flabbergasted when this moron asked her a question about her 'booty'! I think TV viewers should rise up and make some righteous noise against this kind of 'journalism.' "
* "The George Polk Program at Long Island University is now offering funding and editorial assistance to investigative reporters who want to pursue a specific project. We will offer short-term grants, ranging from $2,500 to $10,000, and we will provide an editor and help to place the finished story or production on the Web and in print or on the air," according to a leaflet from the program. "This program is aimed at reporters with a proven track record of investigative work for an American news outlet, especially people who've been laid off, furloughed or taken retirement."
* "MLB.com is looking for 30 reporter interns to work in cities where MLB has a team. What's also nice — it's a paid internship. Interns get paid 500 dollars a week for 10 weeks," veteran journalist Rebecca Aguilar, a board member of the National Association of Hispanic Journalists, notes on her Latino Communicators blog.
* The Black Voices site under Huffington Post direction "will mimic the typical HuffPo combination of blog writing, aggregation and more traditional reporting, but there is a catch: the core writers and editors will be black," Emily Foxhall wrote for the New York Observer. Managing Editor Rebecca Carroll, " — a black woman herself — plans to avoid what she calls 'Black headline fatigue,' in which every story she reads centers around issues such as violence and unemployment that seem to portray how 'worse off' the black community is."
* The Hong Kong Journalists Association, in its annual freedom of expression report, "warned Sunday that freedom of expression in the city had deteriorated, saying the territory had become intolerant of dissent as Beijing strengthened its grip," Agence France-Presse reported.
* "The man accused of aggravated murder and numerous unspeakable acts in the deaths of 11 women whose bodies were found in and around his Imperial Avenue home in 2009 went on trial for his life last week," Ted Diadiun, public editor of the Plain Dealer in Cleveland, told readers on Sunday. ". . . The public will be alternately fascinated and repelled by the trial" of Anthony Sowell, Diadiun said, as he went on to discuss the Plain Dealer's battles with the judiciary to gain access to such information as the names of the jurors.
* "The Cuban authorities are waging a campaign to intimidate Hablemos Press, a Havana-based independent news centre, presumably because of its criticism of the government," Reporters Without Borders said on Friday. "In the past three months, 14 of its correspondents have been threatened and 10 have been briefly detained on at least one occasion." 
Follow Richard Prince on Twitter.

Facebook users: "Like" "Richard Prince's Journal-isms" on Facebook.