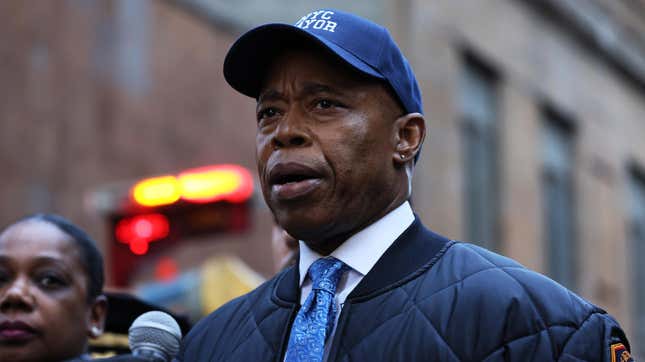 During a speech Wednesday at City Hall, New York City Mayor Eric Adams discussed the killing of Jordan Neely. Neely died May 1 after being choked to death on a subway by passenger Daniel Penny. Instead of discussing his brutal death and the racial elements involved in the incident, Adams decided to focus on pushing the notion that the those in need of mental health services should be placed in hospitals against their will.
"It is time to build a new consensus around what can and must be done for those living with serious mental illness and to take meaningful action despite resistance and pushback from those who misconstrue our intentions," Adams stated. He continued, citing Neely's past as an example of why this initiative is vital."I want to say upfront that there were many people who tried to help Jordan get the support he needed.
"But the tragic reality of severe mental illness is that some who suffer from it are at times unaware of their own need for care." In November, Adams announced a policy that involuntarily hospitalize those who cannot fulfill their basic needs due to mental illness. During his 14-minute speech, Adams also explained that "the circumstances surrounding [Neely's] death [are] still being investigated."
Adams also said that Neely's death was a "tragedy" and that he "did not deserve to die." Instead of offering resources, Adams offered a solution that simply won't fix the problem. It's not just about homelessness or mental health, it's about Black people being targets of racist violence. The New York Civil Liberties Union released a statement on the mayor's remarks. Director Donna Lieberman said:
"In the name of Jordan Neely, Mayor Adams is again responding to homelessness and unmet mental health need with the failed approaches of force and coercion. The mayor's insistence on controlling those in need, instead of taking on the city's housing crisis or lack of access to health care only fuels stigma against homeless New Yorkers and those living with mental illness."

Adams also said he plans to hold a summit next week about how to effectively help people with mental illness.