Cosby tells Alabama grads to help tornado victims: Speaking at the commencement ceremony of Birmingham's Miles College on Saturday, Bill Cosby challenged the graduates to help rebuild the tornado-ravaged communities in Alabama. He told the 207-member graduating class: "This is Alabama. This is you." He also picked up an honorary degree from the HBCU.
___________
Movie written by Tupac optioned for big screen: Who knew that Tupac wrote a film before he died? NStar co-founders Ivan Juzang and film producer Preston Holmes have announced that they are optioning the late rapper's feature-length screenplay, Live 2 Tell. Written while Shakur was incarcerated in upstate New York in 1995 (no, not from the grave or from a Caribbean island), it tells the story of a teenage drug lord and his efforts to leave a life of crime.
___________
50 Cent discusses competitive relationship with Jay-Z: 50 Cent says that he and Jay-Z, who have been known to bump heads, actually just "use each other repeatedly for energy" in a relationship that has more to do with business than personal grudges. "It's not like we have something against each other to make us enemies," he told MTV UK. Whatever works for them.
G/O Media may get a commission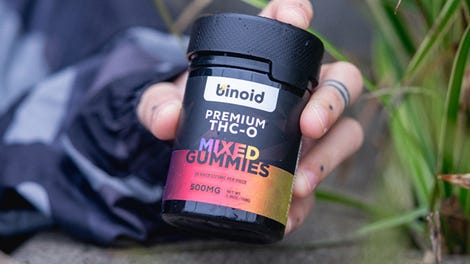 25% Off + Free Shipping
Binoid THC-O Gummies
___________
Maya Angelou on longtime editor: "I can't let him retire": Robert Loomis, one of publishing's most accomplished and longest-serving editors, is retiring after 55 years with the Random House Publishing Group, and he will definitely be missed. In particular by Maya Angelou. She credited Loomis with pushing her into completing her first book, the classic I Know Why the Caged Bird Sings. In response to the news, Angelou said, "Robert Loomis has been my editor since 1968. He has guided and encouraged me through 31 books. I can't imagine trusting a manuscript in the hands of anyone else. I am not finished writing, so I cannot let him retire." We're sure Loomis is wonderful but also pretty confident that she'll be OK without him.
In other news: Courthouse Confederate Flag at Center of Murder Appeal.
Like The Root on Facebook. Follow us on Twitter.