Your Auntie Maxine Waters showed up and showed out Monday night at the Glamour Women of the Year ceremony in New York City. As the California congresswoman was wrapping up her remarks and receiving a standing ovation from the crowd, she began shouting, "Impeach 45!" and encouraged the gathered crowd to join her.
And join her they did. The crowd—full of celebrities, influencers, fellow honorees, powerful women and spectators—joined her call-and-response chant as she raised her arms in the air and encouraged them to get louder and louder. According to Newsweek, Glamour declared it one of the "biggest moments" of the ceremony.
Attendees posted videos of the moment to social media.
This isn't the first time Waters has led a chant calling for the dotard in chief to be removed from office. She did it at the Los Angeles Pride parade over the summer and again at the Women's Convention in Detroit last month.
Waters has been very vocal about her disapproval of the 45th president. During an interview with The Root at the Congressional Black Caucus Foundation's 47th Annual Legislative Conference in Washington, D.C., the Democrat called him out for being a white supremacist and for his alleged ties to the Kremlin. She also said that black women can get him out of office (and I'm here for this; let's do this shit).
G/O Media may get a commission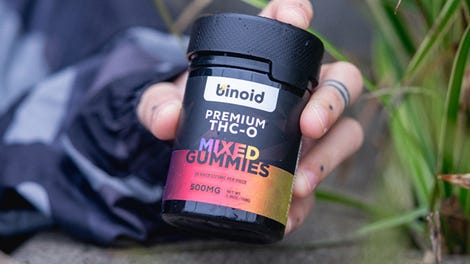 25% Off + Free Shipping
Binoid THC-O Gummies
Earlier this year, she said that she was putting her "career on the line" to speak out against Donald Trump, calling him a "disgusting, poor excuse of a man" and saying, "I want him impeached."
"We must take our anger, our pain, our collective strength to right this wrong, to resist this tyranny and to save our democracy from a man whose immoral character and distorted thinking are an imminent threat to our nation," Waters said at the time, calling Trump's Cabinet "ill-prepared, right-wing billionaires."
"I am not a fan of the word 'impeach,' but I want him impeached. That's what he deserves," she added.
Her vim and vigor when it comes to denouncing the president are probably what got her placed on the new Essence cover, where she looks absolutely regal, like the black queen she is.
Come through, Auntie Maxine. We are all the way here for you.