Before I headed to Los Angeles for the BET Awards this weekend, I decided to test my old-person "stay awake" abilities by going to the premiere party for Netflix and Marvel's Luke Cage series Thursday night before my flight.

While I succeeded in turning all the way up at this party, I failed at staying awake off two hours of sleep on a six-hour flight to Los Angeles. I had all these aspirations ("I'll write this post on the plane!") that went out the window as I spent all of Friday taking crappy naps that didn't make up for all the sleep I'd lost.
But considering how awesome the party at the Edison Ballroom in New York City was Thursday night, I have to say, it was worth it.
G/O Media may get a commission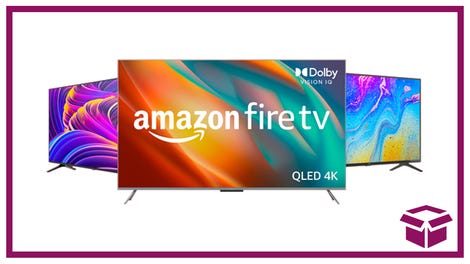 Ooh. stunning.
New Amazon Fire TVs
Welcome to Antisocial, the society blog for people who are scared of society because of crippling social anxiety disorders but who manage to leave the house and turn up anyway. The person with the crippling social anxiety disorder is moi, your resident editor-in-chief and bipolar disorder expert/sufferer, who has vastly improved at this game since the days when I'd just started this column.
I'm only kind of afraid now, as opposed to this! Baby steps!
Because everything is better with a friend, I went to the Luke Cage premiere with none other than mi amiga Sophia Chang, who, per usual, knew just about everybody in the room—from the showrunner Cheo Hodari Coker to Luke Cage's "Bushmaster" himself, Mustafa Shakir. She's always good to bring to a party because:
I love to dance, and she always dances like nobody's watching, so she's basically the best dance partner ever.

She's an excellent "wingwoman." If you want to meet somebody, she knows just the icebreaker to get the convo going.
For instance, Sophia has absolutely no problem walking up to complete strangers and introducing you as the greatest person to ever be great. She did that multiple times Friday night, for which I am eternally grateful. Of course, I do the same for her—not that she needs me to, but because I enjoy telling everyone she's a legend.
First, the actual premier episode was great. I'm a fan of Netflix's Luke Cage show and how steeped in blackness it is. From the hip-hop soundtrack (opening with Mobb Deep's "Shook Ones" was brilliant) to Alfre Woodard as the sexiest Harlem mob maven ever—and criticism about the show's lack of any racism critiques aside—it's good. (The Root's deputy managing editor, Yesha Callahan, reviewed it recently and loved it.)
Second of all, the party lineup was an incredible roster of hip-hop greats—KRS-One, Rakim, Jadakiss, Ali Shaheed Muhammad and Adrian Younge, with DJ D-Nice spinning. Third, everyone there was crazy nice and I wasn't awkward (for once). I danced with Rosario Dawson and chatted up Theo Rossi (who plays Shades on the show), both of whom I adore! I only had a bad case of staring into space and pondering life's delicacy once! (It was annoying as always, but, again, baby steps!)
Rossi has been a fave of mine since Sons of Anarchy. I will forever remain upset at how they did his character by that final season—just WTF. It's up there with when I quit The Walking Dead because of how they killed Steven Yeun's Glenn. Never have I ever been so mad at a show! And I don't care that Glenn dies in the comics. I don't care. I don't care. I don't care!
That said, they better not kills Rossi's Shades this season. I'll stage a one-woman riot at Netflix HQ.

Probably the best performer of the night (it's hard to say who was "best" because they were all so great. I mean, c'mon, KRS-One was there and Rakim) was R&B singer Faith Evans, who, despite some technical difficulties, kept the party going and sang on like the professional she is, belting out hits like 1998's "Love Like This."
Yet, with all the cool people at this event, probably the coolest one was none other than Harlem's own (and fashion's finest), Dapper Dan, dripping in the best, smelling and looking like a million bucks.
And I have to admit, I didn't look too shabby, either. Being able to pull oneself together has always been kind of hit-or-miss for me. Some days I put in all the effort, all the hair and makeup and pizzazz, and look marvelous. Other days I'm like, "Screw this," and just wear yoga pants and a T-shirt. Most days I don't even bother with makeup, no matter what I'm wearing.
But every once in a while, an event will come along and I'll have just the right outfit and attitude, and the sea will part, the clouds will open up and the moon will hit one's eye like a big pizza pie. And on that day, I will be a lit, dancing machine, chatting everyone up and having a wondrous time.
This was one of those times. Let's savor it, shall we? Who knows when that'll happen again.