Michel Martelly was sworn in as Haiti's newest president Saturday before 2,000 guests, including former U.S. President Bill Clinton and French Foreign Minister Alain Juppé. The 50-year-old singer, popularly known as Sweet Micky, faces the monumental task of managing Haiti's recovery from the devastating 2010 earthquake that killed at least 220,000 of his fellow citizens and left more than 1 million homeless.
"This is a historic moment for me," said Martelly at a ceremony to which both former President Jean-Bertrand Aristide and former dictator Jean-Claude "Baby Doc" Duvalier were invited. The U.S. had objected to the return of both men from exile in recent months because of fears that they would create political turmoil. But the swearing-in took place without incident in a temporary building in front of the ruined national palace.
Martelly easily won the second round of presidential elections after the candidate of outgoing President René Préval's Inité (Unity) party was removed from the ballot. That candidate, Jude Celestin, was initially declared the top vote-getter in a first round marred by allegations of corruption and fraud but withdrew after protests and international pressures.
The second round was held on March 20, with Martelly's victory made official one month later. He got 67 percent of the votes to Manigat's 31 percent. Préval, who was completing his second five-year term, could not seek re-election under the Haitian constitution; however, his party will have a legislative majority under Martelly.
Many Haitians voted for Martelly as a symbol of change but are unsure of his capacity to manage the vast reconstruction task. He has spoken about reconstituting the Haitian army, which has staged coups and has often run the country throughout Haiti's tumultuous history. The army was disbanded under Aristide, but some on the political right in Haiti have called for its restoration.
G/O Media may get a commission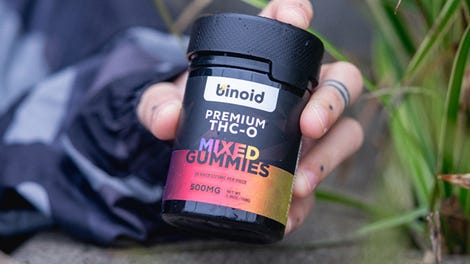 25% Off + Free Shipping
Binoid THC-O Gummies
There is also concern about whether Martelly will support human rights and corruption cases that have been brought against Duvalier. The incoming president has suggested that he would grant Baby Doc amnesty if he were found guilty. Symbolic of the task that Martelly faces, electric power failed suddenly during the swearing-in ceremony, reminding all of the country's precarious infrastructure.
Read more about this story at the Los Angeles Times.
In other news: Venus Williams Pulls Out of French Open.