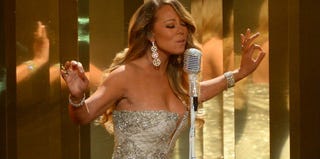 The New York Post is reporting that Mariah Carey was rushed to the hospital late Monday after dislocating her shoulder while filming her latest video.
The superstar was rushed to New York's Hospital for Special Surgery on the Upper East Side late last night to have her shoulder reset after she fell while filming a video for the remix of her song #Beautiful.

Carey's spokeswoman Cindi Berger said, "Mariah was injured while filming a video for the remix of #Beautiful, directed by her husband Nick Cannon.

"She was taken to hospital late last night, where doctors reset her shoulder. She is fine and is recovering at home."
Read more at the New York Post.