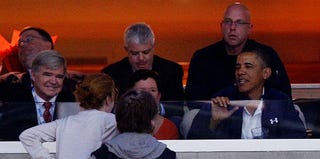 It's no secret that President Obama is a basketball fan, and on Saturday night, he stopped by one of the final March Madness college basketball games, between Syracuse and Marquette, reports ABC News.
The basketball-loving president didn't pick Marquette or Syracuse to make it to the Elite 8 in his bracket, but instead, thought Miami and Indiana would make it to that level.  The president had picked Indiana to win it all, but the team was knocked out by Syracuse in the Sweet 16.

The president said he picked Syracuse to win other games at the urging of Vice President Joe Biden, who attended Syracuse for law school.

"Biden told me that if I didn't pick em' he wouldn't talk to me," Obama said while filling out his bracket with ESPN.
Read more at ABC News.
Like The Root on Facebook. Follow us on Twitter.