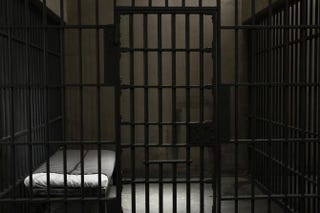 A 43-year-old New York City correction officer was arrested and charged with allegedly smuggling drugs—including crack cocaine and marijuana—into the Manhattan Detention Center and selling them in the jail, the New York Post reports.
Patricia Howard was arrested Saturday night and charged with criminal possession of marijuana and crack cocaine as well as criminal possession with the intent to sell the drugs. Both are felony charges, the site notes. She also allegedly smuggled tobacco, which is banned inside the jail.
A Department of Correction source told the Post that there is "plenty of proof" and that Howard was "observed doing this for a while." Howard was reportedly observed for about four months as she dealt to multiple inmates.
"The [New York] Department of Investigations made arrests this weekend in an ongoing and joint investigation with the Manhattan district attorney, and we decline further comment," spokeswoman Diane Struzzi told the Post.
Howard, a resident of the Bronx, has worked as a correction officer in city jails for almost two decades, according to the Post. Her base salary was $76,488, and she received $104,336 last year, including overtime, the site notes.
Read more at the New York Post.