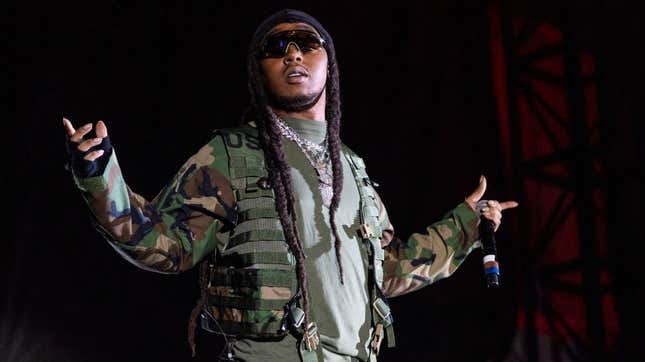 Updated as of 12/12/2022 at 9:58 a.m. ET

Last week, Houston police finally arrested and charged two people with the murder of Migos rapper Takeoff. The two suspects are Patrick Clark, 33, who was charged with murder, and Cameron Joshua, 22, who was charged with felony possession of a weapon.

Inside The Unfortunate Death of Rapper Takeoff
But just because they were arrested and charged doesn't mean the case is over.
Last week, Clark made a court appearance in which he and his attorneys claimed he was innocent of murdering the beloved Atlanta rapper. Days later, Clark asked the judge for $5,000 in order to hire a private investigator so he could prove his innocence, according to NBC News.
Over the weekend, his motion was granted by the judge and Clark can now hire a private investigator to help his defense in the murder of Takeoff.
According to NBC News, Clark asked for the money because his family has already spent their funds on an attorney who will represent him for a reduced price. The private investigator will help Clark and his attorneys "effectively prepare for trial," and has also agreed to work for the family for a reduced rate of $85 an hour.
He's still being held on a $2 million bond and if he is somehow able to make bond, he will immediately be placed on house arrest. He will be banned from having any deadly weapons or firearms, and cannot use any marijuana or any other drugs without a prescription, according to TMZ.
Born Kirsnick Khari Ball, Takeoff was fatally shot outside 810 Bowling Alley in Houston on Nov. 1. He was only 28. Houston Police discovered that the Atlanta rapper was with his uncle and fellow Migos member, Quavo, for a private party and that the shooting happened after a dice game in which both the Migos members were playing at around 2:30 a.m.
Houston police suspect Clark was the man who fatally shot Takeoff based on cellphone and surveillance footage.