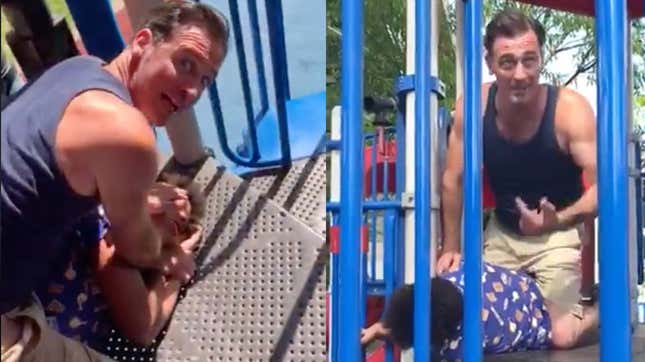 Authorities filed assault charges against a Pennsylvania man, whom they initially declined to arrest, after he was caught on video forcibly restraining a child in a park.
Terry Crews Talks AGT, Hidden Talents, & Falling For A White Chick
On Tuesday, June 25, Shalayla McGovern says her 16-year-old daughter walked to a park in Pittsburgh's Greenfield neighborhood to meet with some friends. The teenage girl reportedly asked her 13-year-old brother to retrieve her cell phone charger from their home a few blocks away and meet her at the park. When McGovern's son got to the park, he noticed one of his friends crying in an abandoned truck that had been at the neighborhood park for years, according to McGovern. The son eventually calmed the crying girl down and got his friend to exit the truck.
"He saw them over by the truck, assumed they were vandalizing it, and he called the police," McGovern told The Root. "He waited and waited but the police didn't show. So he called the police again [but] nothing happened."
McGovern continued:
"So he got upset, ran across the street and ran up to my son and basically said: 'I'm gonna give you a head start, you better run.'

My son was like 'What? What are you talking about?'

"Then he punched my son in the mouth. So my son hit him back.

"He got upset because my son hit him back. He thought that because he was an adult he could put his hands on someone and the child wasn't gonna do anything. The next thing you know, they're on top of the slide. He pins my son down, threatens my daughter...Thankfully my daughter had enough sense to record it."
This Man Allegedly Punched a 13-year-old Boy
The Facebook video recorded by McGovern's daughter shows a man identified as Thomas D'Andrea straddling the 13-year-old as the child complains that his head and his arm are hurting. The sister cries as she begs the man to get off her little brother, to no avail. But D'Andrea insists he can't release the boy "until the police get here."
"I am 13 years old," the boy explains to the camera in a second video as he pleads for his sister to go get help. "This man ran up to me and assaulted me."
"This child [was] vandalizing property and assaulting a 46-year-old man," says D'Andrea, while urging onlookers to "take more fucking pictures" before he explodes into an expletive-filled rant.
"The police didn't fucking come," he explains, calling either the child or his sister a "fucking maniac."
As the incident occurred, McGovern says her daughter called her father, who rushed out of the house, and she followed. When police finally arrived, they declined to arrest the Dollar Tree George Zimmerman, telling the child's mother that the man hadn't committed a crime.

"They were trying to say that they weren't going to arrest him, this wasn't an arrestable offense, and I went off on them," McGovern told The Root. "I took my son to the emergency room and I told the doctors and nurses what happened.
"I asked them to call the police," McGovern continued. "After talking to several people and a social worker, they were able to persuade the police to press assault charges even though they first only charged him with disorderly conduct."
McGovern says her son is embarrassed by the video but she decided to release it when multiple neighbors shared stories about D'Andrea's history of acting like the Connor McGregor of sliding boards and antagonizing black children in the mostly white Greenfield neighborhood, accusations that appear to be confirmed by others in the Greenfield community. Neighbors who live in "The Run"—the specific part of Greenfield where this took place—shared texts and Facebook posts with The Root that appear to indicate that this run-in may not have been an isolated incident.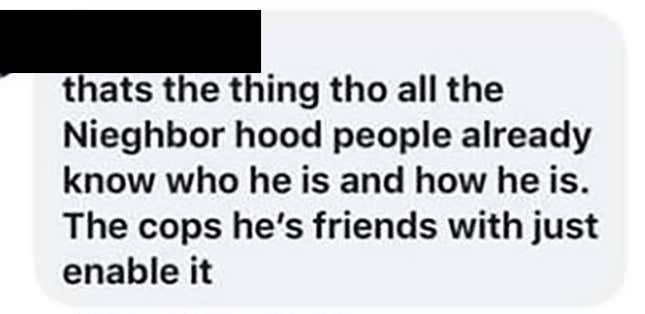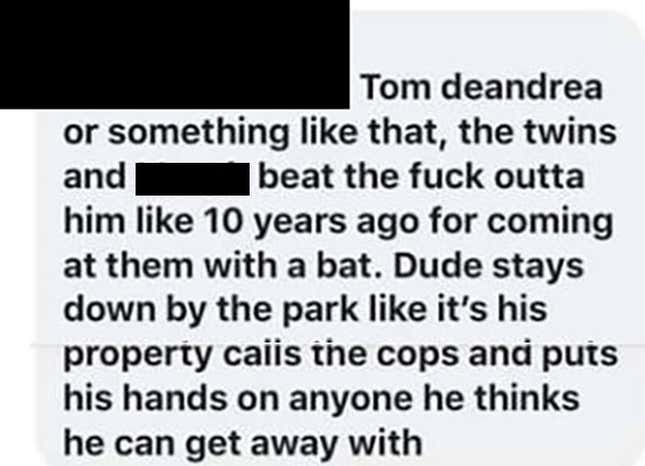 D'Andrea serves on Allegheny County Democratic Committee.
There were media reports that he was part of the Greenfield Community Association, but the group put out a statement clarifying that D'Andrea was never a member.
By now many people have seen the video of the altercation that took place on June 25th at the 4 Mile Run playground. Some online and print publications have mistakenly reported that one of the participants, Thomas D'Andrea, is a committee member in the Greenfield Community Association. This is not true. He is not and has never been a member of our Board or involved in any of our committees. He has no affiliation with the Greenfield Community Association that we are aware of other than being a resident of the neighborhood.

The GCA is a community based volunteer organization whose mission is to fund, support, develop and enhance the community. We, as a community organization, withhold expressing opinions on behalf of the entire community unless there is a clear, understanding of the facts and call for a GCA position. When incidences like this occur within our neighborhood we fully respect and cooperate with the appropriate authorities involved. When all the facts are known and the relevant judicious processes complete, the GCA serves as a conduit for communicating the findings and a forum for their discussion. In the meantime we advocate for civility, accuracy, and respect for the law, and a constructive community dialogue. Accordingly, GCA will be turning off the comment feed on its facebook page and hiding existing comments that are misinformed or offensive. The board feels social media is not the appropriate nor constructive media for advancing a fuller more accurate understanding of the event and its consequences.

Our goal is to constantly strive to make Greenfield a better place for all the residents and business owners. A constructive and informed dialogue is key to the continued success and well being of our neighborhood.

We thank the publications we have contacted for making the appropriate corrections to their stories.

The Greenfield Community Association Board of Directors
When contacted by WPXI, D'Andrea, the recently crowned MMA champion of Pittsburgh's Playground Mixed Martial Arts Association, reportedly said that he was the one who was assaulted and his wife claimed that he is the real victim.

The Root has reached out to the Pittsburgh Police Department as well as Thomas D'Andrea and will update this report with any new information.
While D'Andrea has not announced his next bout, he continues to scout local fifth graders for black kids who look like they want to try him.
Correction: 7/12/19, 10:29 a.m. ET: The last name of Shalayla McGovern was incorrectly spelled in the photo credits of two text messages. This story was also edited to remove a since-deleted Facebook post that incorrectly stated that Thomas D'Andrea was a member of the Greenfield Community Association and updated with a statement from the community association about the misunderstanding.