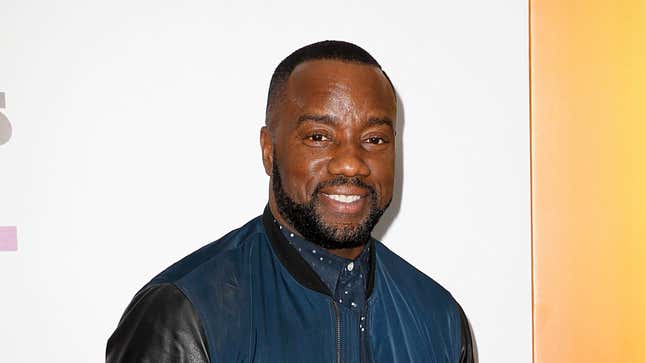 Malik Yoba is sparking conversation via Instagram.
The 51-year-old actor recently took to the social media platform to reveal he is "trans attracted" and will be hosting a workshop at the National Trans Visibility March (NTVM) in Washington, D.C.

Terry Crews Talks AGT, Hidden Talents, & Falling For A White Chick
"Trans people deserve love and respect as do those of us that love them!!" the actor exclaimed in the caption. "I love ALL women AND count MYSELF among those that find themselves trans attracted and I too have felt the self-imposed shame that comes with that truth but it's time to speak up."
The inspiration for the post actually stemmed from Maurice "Reese" Willoughby, a 20-year-old Philadelphia man bullied on camera for dating his girlfriend, Faith, a trans woman. Willoughby reportedly killed himself following the taped incident.

According to Newsweek, however, the earlier reports of suicide were inaccurate and Willoughby died from a drug overdose. "Our deepest condolences to Faith and also to Reese's family. This is a time to mourn for a lost life and support Faith during this difficult time in her life. She is a survivor of abuse and as stated on her Instagram page, a woman who lost her lover. Black women are always mourning and caring for the world while trying to keep ourselves alive. Our love and support to Faith," a statement via the Marsha P. Johnson Institute read.

In fact, the news surrounding Willoughby incited a complicated conversation surrounding cis-gendered men and their attraction to members of the trans community. On one hand, cis men revealing their lust for trans women may appear revolutionary on the surface (as it was deemed taboo prior), but what about expanding that and turning it into true advocacy for trans humanity and rights? What about the fetishizing of the trans community (typically referred to as "chasers")? Particularly, when and how do we address the abuse and killings committed by those same cis men warring with their attraction?

Specifically, one woman, Mariah Lopez Ebony, took to Facebook to address Yoba following his public revelation.

"For all who applaud and solute [sic] Malik Yoba for revealing he is so called 'Trans Attracted', understand that either because of deeper issues he has or, because of 'society' pushing him and others to deep, dark places, his admission to being sexually attracted to Trans women, is bound to open a Pandora's box for him; not because the women are Trans, but because many of the Trans women he engaged in sexual exploration and exploitation with on 14th Street, Times Square and elsewhere, were minors, including myself," Ebony wrote in a post titled, "Surviving Malik Yoba."
"It is not about genitalia or sex, but about attraction to the soul and humanity of an individual and often the beauty that is in the courage and conviction to live ones truth!" Yoba concluded in his Instagram post. "As a self identified cis heterosexual man I too am learning what it means to be trans attracted. Many of us famous and otherwise that have struggled with accepting our attraction so we do NOTHING. This MUST change."

According to the NTVM press release, this will be the first iteration of the event and stars such as Angelica Ross (Pose) and Flame Monroe (Tiffany Haddish Presents: They Ready) will be participating in the rally. Yoba will be hosting a workshop titled, "LOVE + TRAUMA: The Trans Experience," which will take place on September 27.

The Root has reached out to Yoba's team regarding the allegations levied against him.

The National Trans Visibility March will take place September 27-28, 2019 in D.C. For more information, head to transmarchondc.org.

Update: 9/3/2019, 10:06 p.m. ET: 
Malik Yoba responded to The Root's request for comment.
"I have been an ally of the trans community since I was in high school; having friends who have transitioned," Yoba said in a statement obtained by The Root. "Both became homeless as a result, because their parents didn't accept them, and unfortunately one ended up dead from HIV and crack addiction."
Yoba also went on to state he had been a youth advocate since he was 16 years old and made a point to help "find safe spaces" for members of the LGBTQ community.
"The amount of vitriol (cyber trolling as it's more commonly referred) I have experienced being sent my way just for standing in an uncomfortable place pales in comparison to what it feels like to actually be a trans person and be scrutinized or vilified daily," Yoba continued. "This choice has not been easy, but still I feel I have more work to do to help my fellow advocates liberate and normalize my brothers and sisters of the trans experience."
You can read the full statement below.