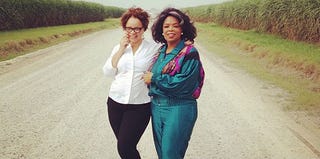 As we gear up for the 2013 Academy Awards, airing Feb. 24, The Root is speaking with black Oscar winners and nominees — past and present — about the prestigious honor.
(The Root) — You may not immediately recognize Oscar-nominated costume designer Ruth Carter's face or name, but chances are you definitely remember her work.
She outfitted Laurence Fishburne and Angela Bassett as Ike and Tina Turner in 1993's What's Love Got to Do With It and bedazzled Jordin Sparks and Whitney Houston in 2012's Sparkle. The research and diligence she applies to her craft earned her two Academy Award nominations for Malcolm X and Amistad, in 1993 and 1998 respectively, making her the first African American to be nominated for best costume design. Sharen Davis (The Help, Django Unchained) is the only other African American to be nominated in that category.
Most recently, Oprah Winfrey tweeted photos of herself in full wardrobe with Carter on the set of The Butler, a Lee Daniels-directed historical drama, introducing the costume designer to her nearly 17 million tweeple. Soon after, Carter worked on Spike Lee's forthcoming flick Oldboy, starring Samuel L. Jackson and Josh Brolin.
Everything is working wonderfully for Carter, but she almost chose another path. Born into a family of educators, the Springfield, Mass., native also wanted to become a teacher before nixing those plans in favor of costume design while at Hampton University. She worked at the world-renowned Santa Fe Opera and the Los Angeles Theatre Center before her pal Lee, then a newbie filmmaker, encouraged her to work in films.
The Root caught up with Carter, who was in Atlanta working on BET's Being Mary Jane, to chat about being the first African-American Oscar nominee for costume design, whom she'd like to work with next and details on how Spike Lee helped her get started in film.
The Root: Knowing that throughout history there were several talented African-American tailors and seamstresses, it seems almost unbelievable that in 1993 you became the first to be nominated for a costume design Oscar. There were no others before you?
Ruth Carter: No, I'm telling you; no, there were none. They were doing supervising — we were not allowed in this industry in department-head positions. We could shine your shoes, but we weren't going to design your shoes. There's a big difference. And please note, I don't feel like I have personally been separated as a black designer, even though the black filmmakers have embraced me and I have enjoyed doing any and all of the stories that I have been blessed to have done, and I feel like I am a player.
Yes, I don't get to do Gwyneth Paltrow — when they're thinking of who could be the best designer for her, I'm not necessarily their first choice. But there are so many layers to what makes filmmakers pick who they want. There's nepotism, yeah, there's racism and separatism — there's all kind of isms. Once you pass the racism, then you're going to have to deal with gender issues, or the fact that you're not foreign or European. You know, there are so many layers; it's just not black and white.
TR: It seems that you got your start working with black filmmakers?
 RC: My first years of working, I went back and forth between Spike Lee, Robert Townsend and Keenen Ivory Wayans. Those were my first directors, and when Spike would finish a movie, here comes Robert Townsend with a movie; and if Robert Townsend wasn't doing something, Keenen Wayans was doing something. So I was doing Do the Right Thing and I'm Gonna Git You Sucka and all of those movies.
And then there weren't a lot of us. I was only one of two or three black costume designers in film. I was the first African American to be nominated for an Oscar for costume design. I've mentored several African Americans in costume design, no doubt about it. We just know who each other is and we just maintain, I guess, our own community of keeping ourselves abreast of each other.
TR: Please share how instrumental Spike Lee was in getting you started in film.
RC: At the time, Spike was not a famous person and had basically just finished She's Gotta Have It. One night a bunch of us were hanging out dancing — we were young — and he was telling me how to get more film experience. He told me to go to the University of Southern California and sign up for the senior-thesis project. He said I'd get experience on how to conduct myself on a film set and what to do.
I listened and did it on the weekends, and I heard for the first time [terms used, like] "rolling," "cut" and "action." It was good for me because I'd considered myself a true [theater person] and had no real interest in film.
TR: Then he gave you your first shot on a film with School Daze?
RC: We exchanged contact information. And Spike was a very good letter writer; he corresponded through postcards. He was always a good promoter of his own self, and he had these postcards printed with Nola Darling, the star of She's Gotta Have It, on it.
He would invite me to different events, and I would be so busy working and not show up. And then She's Gotta Have It went to Cannes Film Festival, and it was a super hit. And I remember thinking, "Damn, I didn't respond to his letters!" But he called shortly after that out of the blue and asked me to design the costumes for his next movie. I was honestly humbled.
I guess with my naïveté at the time, I didn't understand how big that was. All I understood is that I had to do some costumes, which I had been doing since college. It was a learning curve — a lot of hurdles — but I remember feeling very comfortable with my first film being School Daze.
TR: What was the vibe like back then?
RC: What was helpful was that we were a family. So yes, everybody was learning. But some people had already done movies before, so it's all relative. If you're young and your comrade next to you is the same age but they've done a movie before, you look to them for advice. And you don't need to have a whole lot of experience; you just need to have done it once.
We looked up to Laurence Fishburne and admired him, and he was a great friend to Spike. And I remembered, I would see Fish, as we called him, driving through Brooklyn in his long Cadillac-like-looking car — I don't know what it was — but he would have all four windows rolled down, seat way back.
It was more or less that everybody knew each other in a different way than [as] stars and department heads and that kind of stuff. We supported each other. Then, there weren't a whole lot of people who really knew about the film profession in terms of all the different things you could do, like sound and editing.
TR: When you were working on Malcolm X, did you think there was a possibility that you could be nominated for an Oscar?
RC: When Spike got the movie Malcolm X and he called and told me about it, one of the first things he said was, "Don't think about winning an Oscar or an Academy Award or anything like that. Don't think about that. Just do a good job." And after he said that, I did not think about it at all. And that's the honest-to-God truth.
The morning the nominations came out, Russell Williams, the sound mixer, called me and said, "You did it, sweetheart; you did it!" And I said, "Did what?" And he said, "You got a nomination." And I was like, "Wow."
I was shooting What's Love Got to Do With It at that time, and once I got to set, I kept thinking about this thing that had just happened, and was like, "Wow, what does that mean exactly?" And one of the producers, Doug Chapin, was walking by my trailer, and I said, "Hey Doug, come here; I have to tell you something. I got nominated this morning, but don't tell anybody." And he looked at me and he walked away. And when I went to set 45 minutes later, everybody stood up in applause.
Previously in the Black Academy Awards Series: Lee Daniels Thanks God for Spike Lee.
Aisha I. Jefferson is a frequent contributor to The Root. You can follow her on Twitter or visit her at aishaiman.com.