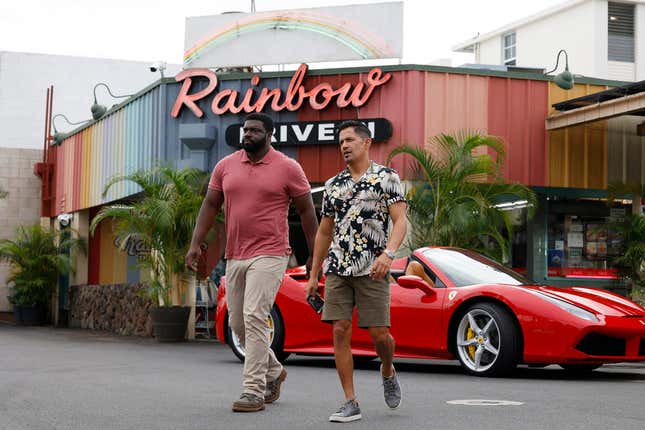 One of the best things about the Magnum P.I. reboot is that the show goes out of its way to focus on more than just the titular private investigator. Yes, Magnum is the star, but his friends are also essential to the series' cool, Hawaiian energy.
Stephen Hill—who plays helicopter pilot Theodore "T.C." Calvin—is one of the many reasons fans rallied to get the show back on the air after CBS canceled it. The actor spoke with The Root about taking on the famous role and his friendship with original series star, the late Roger E. Mosley.

"I had a little freedom, because the reboot came 40 years later. I think if it had come 20 years later, 10 years, it would have been a lot of pressure taking on a new T.C. I got to slide under the radar," Hill told The Root. "I just put so much of myself into it and have a lot of fun on the set."
Mosley guest-starred as John Booky in the Season 1 episode "A Kiss Before Dying." Though the scene was short, it was a really nice "passing the torch" moment between the two actors. In August 2022, Mosley died after sustaining critical injuries in a car accident.
"I reached out to the original T.C. and he actually became a mentor of mine. He would call me, send me his little text messages all the time. He would ask me questions. He pitched his own storyline," Hill said. "He was my barber on the show. And he said, 'One thing, I'll probably get more work that way because you're gonna always need a haircut.' I luckily had him in my corner. And once I knew I had this blessing, it was just like I can fly after."
Magnum P.I. was recently revived on NBC and the series has returned with a lot of big stories for T.C. Viewers will continue to follow him as he becomes a foster father to Cade, a teenager he bonded with in Season 4. We'll also get to see his love life take center stage, something the actor is excited about. But what really has fans on edge is the dangerous team hunting down Magnum, T.C. and Rick to get revenge for a mission from their military past. Hill says the situation has the guys "shook."
Magnum P.I. airs Sundays at 9 p.m. on NBC and is available to stream on Peacock.