It seems as if the entertainment site TMZ, which has been breaking news left and right, scooped Anderson Cooper's Tuesday-night interview with NBA legend Magic Johnson regarding the continuing fallout from racist statements made by Los Angeles Clippers owner Donald Sterling.
In a telephone interview earlier Tuesday with the gossip conglomerate, Johnson slammed Sterling for bringing him into the mess and saying things without getting his facts straight—especially regarding Johnson's work in the black community and his health status.
"It's very disturbing," says Johnson, who can be heard sighing heavily over the phone. "When you come on [television], No. 1, you should have your facts straight. I don't have AIDS. I have HIV;been living with HIV for 22 years."
"That's his opinion if he thinks I'm not a role model. That's his own opinion. I know the things that I've done in urban America and for people," Johnson added, rattling off his credentials. "I've sent over 10,000 minorities to college … I've invested over $1 billion in urban America … I touch urban America in so many different ways and I'm proud of my work. I'm excited about what I do."
Johnson told TMZ that Sterling had wanted him to appear with the embattled team owner in an interview with Barbara Walters in a bid to save his reputation. Johnson said that he refused and advised Sterling to seek the counsel of his attorney and to apologize to everyone he had offended, including Johnson himself.
G/O Media may get a commission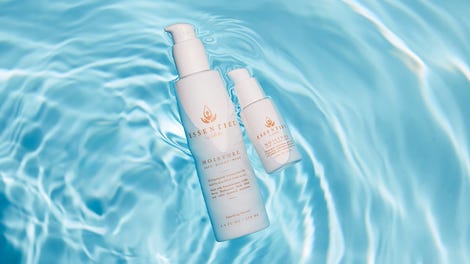 20% off
Essentiel by Adele
"He has never apologized to me or to the other minorities he offended," Johnson said.
Johnson admitted to not feeling too charitable about Sterling, but he asked that people "pray for the man."
"I'm not going to sit here and let Donald Sterling disrupt my day, my year, my month. I'm a guy who's very secure with myself," Johnson said. "I'm a proud black man. I'm one of the leaders in the black community and I take that role very seriously. I don't have any ill feelings no more to Donald. I think we should all try to get him some help. It's a shame."
Johnson would echo those statements in his Tuesday-night sitdown with CNN news anchor Cooper, adding that he barely knows V. Stiviano, Sterling's female friend who can be heard on the recordings, and whom Sterling tells not to bring black people, including Johnson, to games. Johnson also said that he barely knows Sterling and doesn't know how he ended up in the middle of the controversy.
Johnson stressed that it is time for the Clippers owner to retire. "You're 80 years old. You've had a tremendous life. And you're going to benefit, whatever the price tag is, from this team selling. Just go ahead and enjoy the rest of your life," Johnson told Cooper. "You're fighting a battle that you can't win."