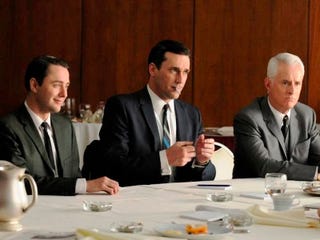 Mad Men is certainly not a show in which black people can enjoy seeing people who look like them. As marvelous as the show has become over four seasons, for a black person it can be almost chilling to see one's own color only in the occasional elevator operator, handyman or passerby. Or mugger. Or a white character's girlfriend written out of the storyline as quickly as possible. Or Carla the maid, whose inner and outer lives are hidden from us — and who got unceremoniously canned in this season's final episode.
But I have a hard time seeing this as a flaw in the show.
The absence of blacks in Mad Men is a standing condemnation of the people the show depicts, not of the show's creators. That is, it is a slap in the face to the real people of the early 1960s. It was such a modern era in so many ways, and yet even literate, liberal whites so often thought of black people as semi-competent aliens, knew few of them and liked it that way.
All of those beautifully coiffed people on the show whose trials and tribulations grab us for 13 glossy episodes each year would have been nauseated at the prospect of their child dating a "Negro." All but a very few of them would never have done so themselves. Imagine Betty Draper, for example, having an affair with a black gardener the way her Julianne Moore equivalent did in 2002's film Far From Heaven. Betty would rather have died.
I have always assumed that this was what the show's creators intended as the race message in the show, and that we were to be relieved that America is past that situation, just as we are past the heavy smoking, whiskey guzzling and womanizing as norms.
To be offended that black people hover at the margins of the Mad Men world is to view the show as something I'm not sure Matthew Weiner and his crew intended it to be: a dramatic documentary of the '60s as a whole. Certainly there were lots of black people doing things much more interesting than cleaning houses and mugging people in 1965 in New York City. But Mad Men is about people in the advertising business and their families and associates.
We all agree, I presume, that this specific set of people were precisely those whom, if asked how many black people they had ever had in their homes besides the help, would have had to answer none. These are the whites who, 10 years later, were being held up to justifiable ridicule on TV shows like All in the Family and Maude. 
As such, perhaps many would hope that the show would have concurrent story lines about black people. One imagines, say, the black Muslims of New York at the time, including a cameo by Malcolm X and maybe even a show highlighting black people's reaction to his assassination in 1965. Or the story of a black family who are the first ones in a white neighborhood in New Rochelle, and the hostility they encounter. 
That would be genuinely interesting — but then the show wouldn't be about ad execs, the Mad(ison Ave.) Men. And the question is whether that focus is an unjust decision. It leads to other questions. Was The Sopranos flawed in focusing on white Mafiosos rather than opening up the story to give equal time to black criminals? Should Jewish women have felt slighted by their absence on The Wire, when there are plenty of Jews in Baltimore? Is it time to start giving white people meatier roles on House of Payne?
One thinks of people like Kerry Washington, Anika Noni Rose, Jeffrey Wright, Mos Def, Don Cheadle and Loretta Devine tearing it up. I even imagine John Witherspoon getting to do his thing on the sidelines as somebody's grandfather; Isiah "Shee-it" Whitlock Jr. expanding on his talents; or even, if we take it back to the '20s, Queen Latifah getting to do Bessie Smith.
Could Tyler Perry continue in the more profound direction he has taken with For Colored Girls and spearhead a black cable series about, perhaps, black people in New York right after World War II? Maybe, after the inevitable segment where a younger Madea pops up visiting a relative, there could even be a cute crossover cameo where somebody has an encounter with a young Roger Sterling or Betty Draper as a girl.
But here's the thing: Few of us would have a problem with white people not taking center stage on a show like this, even though white people were the majority of the American population at the time. Is there anything different about how many black people there are on a show depicting the advertising industry in the early '60s? 
John McWhorter is a regular contributor to The Root.
John McWhorter is a contributing editor at The Root. He is an associate professor at Columbia University and the author of several books, including Winning the Race: Beyond the Crisis in Black America and Our Magnificent Bastard Tongue: The Untold History of English.