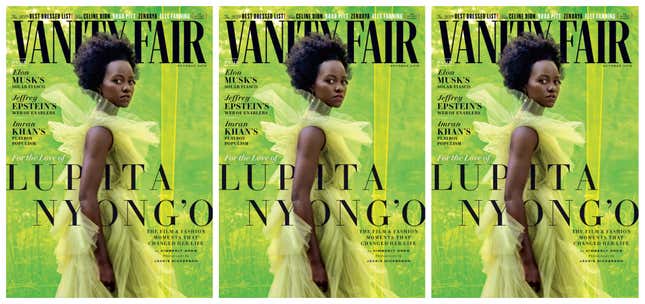 There is no debate when it comes to the beauty that actress Lupita Nyong'o exudes every time we see her. In a word, her looks are flawless, and she serves them just as well as she serves up any acting role she is given.
From Patsey in 12 Years a Slave—a role for which she won an Oscar—to Black Panther to the dual roles she played in Jordan Peele's Us, Nyong'o is a marvel and a Hollywood treasure.
When the moving picture cameras stop rolling, it doesn't stop her shine, and the October cover of Vanity Fair proves just that. As she stunts in Gucci, Jimmy Choo and jewelry from Tiffany & Co., Nyong'o discusses everything from her style influences (her mom and her aunt), to keeping her private life private and upcoming projects that include another turn in the Star Wars universe and a television adaptation of Chimamanda Ngozi Adichie's Americanah.
The 36-year-old actress, who was born in Mexico City and spent the first few months of her life there before her family moved on to New York City, was sent by her parents to learn Spanish at Universidad Nacional Autónoma de México's Learning Center for Foreigners in Taxco, Mexico, when she was just 16 years old. She would later take a deep dive into African studies at Hampshire College in Massachusetts before studying drama at Yale.
"We were really deeply investigating and exploring and analyzing a lot of sociopolitical dynamics," she told writer Kimberly Drew. "My enlightenment was my education, to really recognize that these things play out in cultural and social setups. They don't play out theoretically."
No, they don't.
Nearly two years ago, Nyong'o penned an op-ed for the New York Times in which she outlined multiple encounters with Hollywood producer Harvey Weinstein—encounters during which he made inappropriate sexual advances toward her. Those encounters caused her to vow never to work with Weinstein again.
Nyong'o told Vanity Fair that in the time since she penned that op-ed, "there is definitely more of a sensitivity toward sexism, chauvinism, abuse," and that many film sets often employ an "intimacy coach."
"In the past, when it came to physical combat, there were always consultants on set, but when it came to intimacy there was never, ever somebody present to help actors navigate that. Now you have that, which I think is a great inclusion, and ensures that those kinds of abuses don't happen. I think there's also at times an oversensitivity, which I just think is the nature of the pendulum shifting, and it takes time to find the balance. I'm quite happy that there is that kind of extreme change, and hopefully, we find equilibrium as we move forward."
When it comes to maintaining her impeccable image—even as people have tried to tie her to romantic relationships with other luminaries such as actor Michael B. Jordan and singer and actress Janelle Monae—Nyong'o is very matter-of-fact about it all.
"I feel like there's parts of myself that I care to share and then there are parts that I don't," she said.
The parts she has chosen to share with Vanity Fair for their October cover story are equal parts beautiful, endearing, stylish and insightful.
She manages to be a wide-open book while still maintaining a modicum of privacy.
It's what we have come to expect from Lupita.