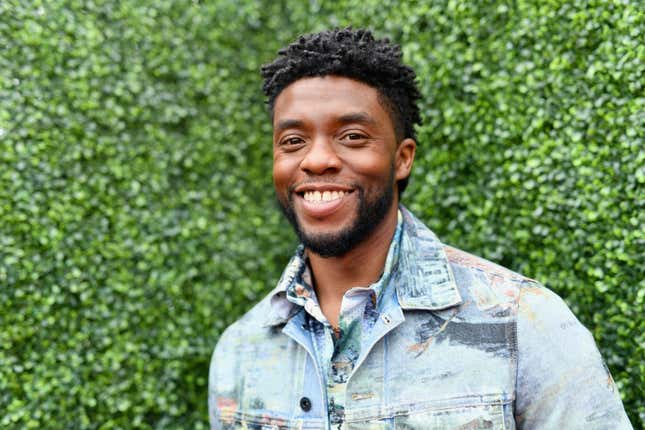 This week, fans and friends marked the three-year anniversary of Chadwick Boseman's passing. He was only 43 when he was taken by colon cancer in August 2020. His young age combined with his extraordinary talent makes his loss particularly hard to process. We're not just mourning all the memories and moments he gave us, we're also lamenting all the amazing performances he'll never get to deliver. His Black Panther co-star Lupita Nyong'o remembered her friend on Instagram, posting a message of love alongside a beautiful black and white photo of Boseman.

Lupita Nyong'o On Making Wakanda Forever and the Loss of Chadwick Boseman
"Three years ago today, I experienced a singular pain at the news of @chadwickboseman's death," she wrote. "The confusion was so profound that it took months to trust the feeling of joy again."
"This is a photo I took on film at the airport as we arrived in South Korea in 2018," Nyong'o continued. "We had just learned to do the baby heart with our fingers. Here Chadwick was adding his suave flare. We spent a glorious 72 hours there, and the memory fills me with so much joy."
Though she was specifically speaking of her friend, the Oscar winner's words about grief are powerful and inspiring.
"Death is hard to understand, maybe even harder to accept," she added. "But the love generated from the life he lived will fuel every anniversary marking his absence."
"Chadwick may no longer be in our photos, but he will always be in our hearts," Nyong'o concluded.
Boseman spent his career celebrating the lives of the Black community's most admired legends, role models and kings. He left a legacy that we will never forget and never take for granted. It can be difficult to watch his movies at times, because it feels bittersweet. But as Lupita reminds us, there's also a lot of love involved and that will help us remember all the joy Chadwick Boseman brought into our lives.