My earnest devotion to the Love & Hip Hop franchise is quite well-documented. When it comes to the general thoughts that consume me any day of the week, it goes 1) ranking various chicken establishments by seasoning and breading, 2) praying that Serge Ibaka will finally respond to my DMs and 3) rabidly consuming the latest entertainment that Mona Scott Young has to offer. She's basically my drug dealer. Whenever she gives me fairly middling seasons of programming (see: half of the latest round of Love & Hip Hop: Inland Empire, aka Love & Hip Hop: Hollywood), I'm still taking the hits just to feel a little something until she gets the good shipment in.
Well, ladies and gents, the mid is officially selling. The new season of Love & Hip Hop: South Bronx/Harlem (aka Love & Hip Hop: New York) has premiered, and it has warmed the spirit of the teeny, tiny hood rat that still sits inside my deadened gentrified soul.
Judging from the season premiere, this round has everything a bird could desire in top-tier "unscripted" television. We have one-hit wonders. We have old popular dances. We have door-knocker earrings, strippers from Gun Hill Road and women who still match their kicks with their name belts. I'm pretty sure I heard a "word to muva" proclamation that made my heart skip a beat.
We also have the triumphant return of Reminisce "Remy Ma" Smith.
For those of y'all who are new to the wonder of Remy Ma, well, you must be under the age of 18. In which case, log off and do your homework. Regardless, she came up under Terror Squad—aka Big Pun and his ragtag friends who let the world know that New Yorkers let "lightskint" Latinos get away with saying n—ga—and had a few solo hits before spending over six years in jail for what she claims "the legal system defines as intentional assault." By "defines" she means, "I shot my friend in the stomach who stole 3,000 U.S. dollars and then tried to intimidate the jury into not convicting me," but hey, just semantics. Long story short, Remy Ma wasn't lying in that "Ante Up" verse.
G/O Media may get a commission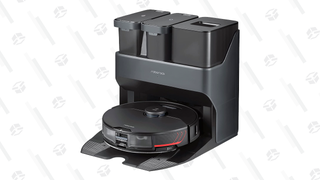 24% off
Roborock S7 MaxV Ultra Robot Vacuum and Mop
When I first heard the cast announcement for this season, I was more than excited to see the return of Remy Ma to my screen, even if it wasn't in the form of new music. And if Papoose had to come with the package, I was willing to let him live his Nacirema Dream.
Color me surprised when I found my heart warming at Remy and Papoose's relationship.
First off, Papoose is truly "ride or die" for his woman. He championed her through a six-year bid (including getting into a fistfight with Fat Joe, pre-weight-loss surgery), married her during that time and was ready to give her the world on her return. He took her to what looks like the Medieval Times castle as a potential site for their wedding! I can only hope that my future husband can love me the way Pap loves Remy and Avirex jackets.
Secondly, everything about their relationship is peak blackness. I mean, just take a gander at that photo. Remy is in pin curls, playing chess with her husband, who is in top-to-bottom camouflage. There's a 90 percent chance that our lady Reminisce smells like Love Spell. What do you think they're playing for? The big piece of chicken? Flamin' Hot Cheetos? Honey Buns? The possibilities are endless.
Now, we've only seen one episode, so my excitement may be a bit premature. But considering that the rest of the cast features a man who moved his baby mama and side chick down the hall from his wife, I'm ready for the stability of this hood love. I can't wait to see them toe-wop their way down to the altar.
Shamira Ibrahim is a 20-something New Yorker who likes all things Dipset. You can join her as she waxes poetic about chicken, Cam'ron and gentrification (gotta have some balance) under the influence of varying amounts of brown liquor at Very Smart Brothas.