When I was growing up, The Autobiography of Malcolm X was like manna; it was part of my introduction to "black consciousness," at least from a proto-nationalist, the-black-man-is-god perspective. Malcolm was larger than life, especially for us inner-city girls who were as well versed on Surahs as Psalms; his words our Sunday sermon, his persona splashed across neverscared posters and baseball caps, his voice ringing from rap records and once a Spike Lee flick. Let's just say you'd be hard-pressed to name another man more influential in both the black literary canon and pop culture in the 20th Century.
He occupies a space in our lives that is sacred, no doubt due to his diamond-hard brilliance and unshackled love for his kin. There was very little sugar coating it with Brother Malcolm; his oratory was masterful, his relatability his zakat. But perhaps his greatest gift was his fiery fluency in "make it plain" so that all black people—low country, low down, evolved, eccentric—could follow the output of his keen mind. Malcolm came from the muck, but emerged as a demigod (the excuse they used to kill him); this man of the people; this unapologetic sexist (who may have kissed a boy); this white man denouncer; this truth-teller; this shining black prince betrayed and murdered by his own.

And even though the dichotomous comparison to Martin King is facile at best, Malcolm did represent the impoverished kid from the dirt who went to prison—where so many black men who came after him found themselves—and eschewed reconciliation for jihad. He bathed in the amniotic fluid of lynch and a mentally ill mother to emerge as a bonafide star. And he did this all without a doctorate, fraternity affiliation or middle-class respectability.

In July, when the Schomburg Center for Research in Black Culture announced the acquisition of an unpublished chapter from The Autobiography — in addition to never-before-seen manuscripts and notes, written in Malcolm's hand—many were more than excited. (I know I cried over glass when I saw James Baldwin's papers on display last April.)

G/O Media may get a commission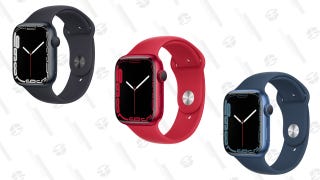 Up To $45 Off
Apple Watch Series 7
Malcolm's works were previously held by a private collector, who acquired them at a sale of co-author Alex Haley's estate in 1992. The papers, incredibly housed on Malcolm X Boulevard in Harlem, display a back-and-forth written dialogue between Malcolm X and Haley on everything from diction to timing and tone, as well as written fragments in text showing Malcolm X's reworking of key passages from the final pages of his autobiography, and a never-before-seen chapter from The Autobiography — titled "The Negro" — believed to be dropped after Malcolm's untimely death on Feb. 21, 1965.

"The Negro" definitely has a different feel from the final book or the manuscript in progress, more sermon than story," says Kevin Young, director of the Schomburg, to The Root. "It has the tenor of one of Malcolm X's speeches at the time, addressing, and sometimes damning, the place of African Americans in history and America. His criticism I see as a form of love, emphasizing self-reliance and self-determination. The "lost" chapter also shows not just Malcolm's writing in earlier form, but the changes he underwent between the chapter and what was the last year of his life, and his embrace of a pan-African and international perspective on Islam and the struggle for civil rights."

Young explained that sharing this part of African American history is "extremely significant" for providing us yet another piece of Malcolm's life.

"The Autobiography of Malcolm X is a monumental work. To actually see how that book took shape through Malcolm X's handwritten corrections and notes is very powerful. Additionally, the omitted chapter, believed to be removed after Malcolm X's death, places the work in a new context and provides an understanding as to why it was excluded from the book in the first place. The possibilities for new revelations are nearly endless, and we are so proud that the Schomburg Center can bring this material to light for the first time."

Finally, Young explained that he expects not only scholars but the general public to view this historical offering.

"Scholars of Malcolm and Haley will certainly be interested in seeing the manuscripts and I suspect we'll have many members of the public coming to see them while they are on display," he said. "Those who are interested in seeing what the process of writing this landmark book may have been, fans of Malcolm X and Haley, and others with a love for or interest in this history will certainly come. But, the value of the manuscripts being held at the Schomburg Center is that they are open and accessible to any member of the public for research with a free, New York Public Library card. We invite everyone who has an interest to become a researcher in their own right, to have a chance to read the manuscript and the lost chapter, and to discover more of Malcolm on their own."
The Schomburg Center for Research in Black Culture will host a public display of Malcolm X's papers through Nov. 10.