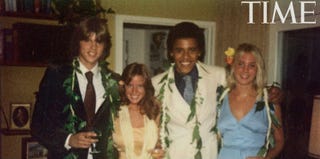 President Obama's senior-prom photos from high school have surfaced, thanks to classmate Kelli Allman (née McCormack), and Time reveals that his outfit was fantastic.
Time also got ahold of some choice pages from Allman's yearbook, in which a young "Barry" Obama spits major 1979 game, writing to Allman, "You are extremely sweet and foxy."
Barry spent his days at the Punahou School in Hawaii studying, shooting hoops and goofing off with his friends. Greg Orme, a fellow varsity basketball player, was Obama's constant companion. "They were like brothers," says Allman. On prom night, the pair double-dated. Obama and his date Megan Hughes, a student at the Hawaii School for Girls at La Pietra, joined Orme at Allman's house, where the two couples sipped champagne before going to the dance and then an after-party. "It was a really fun, happy time. We were all cracking up, and everyone was smiling," says Allman. "It was pretty typical from there out as far as what happens at prom: the dinner and the dancing and the photos."
See more images at Time.