Editor's note: This article contains tweets that some may find offensive.
High-end London retailer Oasis has some explaining to do when it comes to an ad it provided London's Evening Standard newspaper. The photo in question looks remarkably similar to Solange's A Seat at the Table album cover, and social media quickly came for the newspaper and store.
G/O Media may get a commission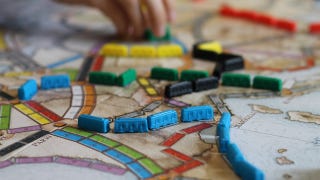 Tabletop & Board Games to Play This Fall
Of course, there's always that one daft person who wants to know what the issue is:

@KissMyMahogany @byisikalu wait white ppl can't wear Bobby pins ? I'm so lost this outrageous ???? pic.twitter.com/erDFtfC07o

— |||| (@Luxuryblogger_) November 29, 2016
While some will say imitation is the best form of flattery, clearly the people who thought this image was a good idea didn't listen to Solange's album, which talks heavily about cultural appropriation. Oasis needs to have a seat at a table, and listen to the album just to see why its image is problematic.