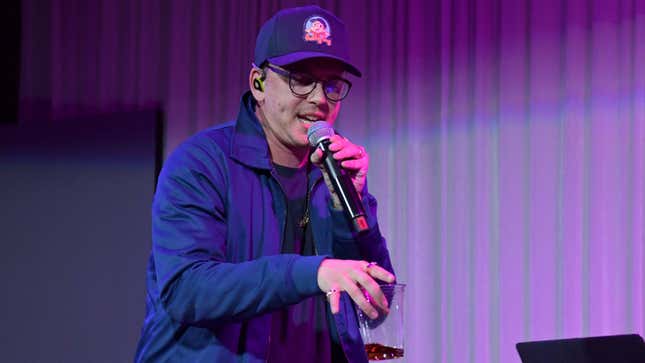 Updated 3/13/22 at 10:41 a.m. E.T:
After receiving backlash for his horrendous cover of Ice Cube's "It Was A Good Day," Logic has seemingly responded with apathy. When asked by a fan him on TikTok about the negative response to his rendition and if he has plans to make a covers album, Logic gave an interesting answer.
Rapper and Actor, Common, Plays That's So Random
"You know it's funny you should say that," he stated. "Um, it's funny you should say that because I thought about doing that. Wouldn't that be cool? Everybody's all pissed off at me because I did a f*cking Ice Cube cover. Meanwhile I texted Ice Cube and he's like, 'Man, keep on doing you brotha,' like what the… who gives a f*ck. Who gives a f*ck."
Logic continued: "But you know what would be great? Is if, you're right. I should do a whole f*cking album, and just do a whole album of f*cking hard ass 90s records and call it 'Logic Greatest Hits,' and get all them paid, and publishing, and take care of all the legends and the goat's and the great's from the 90s. And f*cking do a covers album, who gives a f*ck.. whaaat."
Original Post:
What the world absolutely, 1,000% didn't need was Logic doing a cover of Ice Cube's song "It Was A Good Day" but that's what we got. On Monday, he released his own rendition of the 1992 classic and it's just as bad as you think it is. Logic's eighth album, College Park, was released last month to little fanfare.
Naturally, he decided to gain some traction by doing this extremely unnecessary cover. The video has received millions of views—most of which are presumably hate views—on social media and since we can't unsee it, you must see it too:
Logic has been critiqued for his version of the song for many reasons: his singing/not rapping, saying the N-word in a downright uncomfortable manner, the way he lowered and tickled the microphone in a gross way, his decision to even do "It Was a Good Day" in the first place. He has been corny for many, many years and this just adds fuel to the fire.
Even Ice Cube's son, actor O'Shea Jackson Jr., commented on how awkward it was:
Aside from his overall lack of talent, Logic's entire career feels performative. Blackness and what is means to be a mixed raced person in America is inherently complex. However, choosing to poorly modify a rap classic by one of the most pivotal figures in the history of hip hop—someone who loudly protested the racist and violent treatment of Black men in this country—is definitely not it.
If there is one thing that we're certain about, it's that Logic will definitely continue to be corny af—consume his music at your own risk.