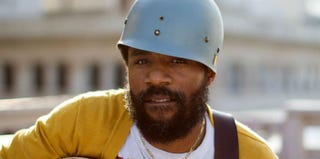 (The Root) — After a decadelong hiatus, guitar-slinging soul rocker Cody ChesnuTT is releasing his sophomore album on Oct. 30, titled Landing on a Hundred. It's his first full-length album since 2002's The Headphone Masterpiece. You may also remember ChesnuTT's "The Seed (2.0)" on the Roots' 2002 Phrenology. Suffice it to say, it's been a while. 
But aside from a more mature sound, little has changed about ChesnuTT in the last 10 years — he's just as talented as he ever was. His songs are thoughtful and creative, tackling everything from the ways we mask our true selves in "What Kind of Cool (Will We Think of Next)" to the elusiveness of freedom in "Under the Spell of the Handout."
Instrumentals that conjure an earlier time in songs like "That's Still Momma," and a voice that's timelessly soulful, make this a great start to Cody ChesnuTT's second act.  
Take a preview listen to the full album, streaming at NPR.
And check out this behind-the-scenes video, too.
Previous recommendation: Watch the Final Debate With The Root in DC.
Got ideas for The Root Recommends? Send them to recommendations@theroot.com.