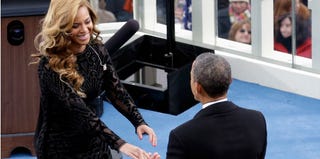 (The Root) — Beyoncé recently posted a photo of herself on Instagram wearing a sweatshirt emblazoned with the question, "Can I live?" Can you blame her? The backlash against her after it was revealed that she lip-synched the national anthem at President Barack Obama's inauguration last week has been swift and brutal. And it seems to be neverending.
The Root's political correspondent, Keli Goff, argued in a recent blog post titled "The Real Reason Critics Target Beyoncé" is that Beyoncé is known more for her skills as an entertainer than for her singing, and that her use of the prerecorded track should come as no surprise. Beyoncé is really getting all the flack, Goff writes, because she was not an appropriate choice for an inauguration singer because of her "hypersexualized persona" and her Pepsi endorsement deal. Goff's not alone — the Internet has been dotted with similar criticism, ranging from knocks on Beyoncé's vocal talent to suggestions that she was never the right choice to grace the inaugural stage.
Let's get these misconceptions straight once and for all.
When I read arguments that Beyoncé's talent is confined within the limits of her onstage shimmy, I often question whether those stressing that fallacy are arguing it from 2003 — before she formally shoved Destiny's Child to the side to launch her solo career.
Fair enough if songs such as "Love on Top" — at the end of which she breezes through four key changes — and "Speechless" never made it to your iPod, but the perception that Beyoncé isn't celebrated as one of the premiere vocalists of her generation is one that only exists to those who haven't been paying attention. A cheap nonstory about Beyoncé singing over a track of her own voice doesn't alter that fact. And make no mistake — if she does it again this weekend for her halftime performance at the Super Bowl, the fact will remain that her vocal ability is just as celebrated as her value as an entertainer.
The premier vocalists of the generation before her — Whitney Houston and Mariah Carey — have each praised Beyoncé as a singer. The same can be said of other legends, such as Diana Ross, Stevie Wonder, Prince and Bette Midler, and of her contemporaries, such as Alicia Keys, Emeli Sandé, Monica, Justin Timberlake and Leona Lewis. You can add Madonna, Lauryn Hill, Martha McBride, Björk, Plácido Domingo and White Rabbits, too. Throw in American Idol judge Randy Jackson, The X Factor judge Simon Cowell and celebrated songwriter Diane Warren.
If anyone is that curious to find out how Beyoncé sounds live, she has provided plenty of examples. There's the American Idol rehearsal that her husband recorded on his phone, her 2003 Billboard Awards performance, Glastonbury 2011, her tribute to Barbra Streisand at the Kennedy Center Honors, the tribute she gave to Michael Jackson while on tour, that really great rendition of "Fever" from The Jay Leno Show eons ago and her three performances at the Academy Awards.
Plus, you know, countless tour DVDs in which she's standing there belting out ballads after an hour or so of twerking.
I'll be happy to provide a shovel to those who very much need to bury the lie that Beyoncé isn't known much for her singing already. It's a critique of Beyoncé that's bothersome because it reeks of a certain bias against entertainers in general, and worse, a linear opinion of women who dare to take charge of their sexuality.
Beyoncé is not, as Goff wrote, considered "in terms of actual talent and global image" [to be more] "on par with Madonna" than someone like "Queen of Soul Aretha Franklin." Regardless of whether or not one finds Beyoncé's recent GQ spread to be tasteful, those photos don't automatically make her Madonna. Besides, if there were any singer out now who shares Madonna's embrace of sexually charged imagery, it would be Rihanna.
But my biggest gripe isn't the false equivalency but the sentiment behind it — because of the GQ spread, Goff writes, no one will ever look at Beyoncé and "think 'classy inauguration songbird.' "
Well, plenty of people will, as long as they don't think a sexy pictorial, costume or gyrating onstage makes you the whore of Babylon.
But by this narrow-minded view of how a woman ought to conduct herself in order to be perceived as "classy," Aretha Franklin, who had a baby at 14, wouldn't exactly fit the bill as a "classy inauguration songbird" no matter what she decided to wear, would she?
Beyoncé being sexy doesn't mean she can't exhibit class or be the kind of role model to young women that both the Obamas find her appropriate enough to be.
Similarly, accepting an endorsement deal from Pepsi doesn't automatically negate her work with Michelle Obama's "Let's Move" campaign. Soda companies should be criticized for their direct marketing to minorities and young people, but even our french fry-loving first lady acknowledged the campaign is about balance and exercise, not restriction.
Beyoncé might be my lord and gyrator, yet I don't consider her to be above criticism. There are reasons to critique her, but the only clue I'll give you is that the aforementioned aren't it.
Michael Arceneaux is a Houston-bred, Howard-educated writer and blogger. You can read more of his work on his site, The Cynical Ones. Follow him on Twitter. 
Michael Arceneaux hails from Houston, lives in Harlem and praises Beyoncé's name wherever he goes. Follow him on Twitter.