A legally blind Little Rock, Ark., resident is considering suing the city's Police Department after, he says, he was injured when a Little Rock police officer slammed him to the ground, Fox 16 reports.
Eric Wilson, who can see only shadows, had just gotten off work at the Lighthouse for the Blind on June 1, a little before 4 p.m., when he decided to walk home after missing the bus.
As he was walking down the street, a police officer called out to him. Officers say they had received a call about someone behaving suspiciously who fit Wilson's description.
"Hey, come over here and talk to me," the officer could be heard shouting at Wilson as he walked by.
Wilson approached the officer, even though he didn't know who was calling out to him.
G/O Media may get a commission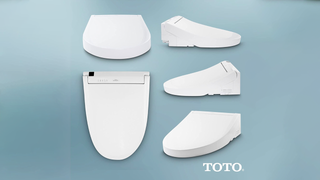 44% off
Toto Washlet Electronic Bidet Toilet Seat
"I could have possibly been getting robbed," Wilson told the news station. "I didn't know what was about to happen." 
Wilson was told to put his hands behind his back, which he did, but then he was suddenly pushed to the ground.
Officers claim that Wilson "pulled away violently," causing the officer restraining him to lose his grip. The officer said that he became "afraid that Wilson would strike myself or my partner with the handcuff."
However, Wilson and his attorney, Reggie Koch, say that is not what happened, at least not according to the video.
"When they tell him to 'come over here,' he walked towards them," Koch said. "When they tell him, 'Take your hands out of your pockets,' he takes his hands out of his pockets. What more do they want?"
"Why would I get thrown to the ground?" Wilson added.  "If anything, [the officers] should have been trying to help me." 
The officers also claim that they saw a black handle hanging out of Wilson's pocket, but that was Wilson's clock, which reads him the time.
Wilson went to the hospital the night of his confrontation complaining of back pain. Wilson says he was diagnosed at the hospital with a strained lumbar.
Wilson has filed a formal complaint with the Police Department, which is currently investigating the claim but has not offered any comment on the incident.
Read more at Fox 16.