A Forest, Va., fifth-grader got the chance to see his mother clearly for the first time ever through the use of new electronic glasses, ABC News reports. 
Thanks to the new wearable technology called eSight, Christopher Ward Jr. was able to "really see for the first time in his 12 years of life," his mother told the news station.
"The very first thing he did was turn to me and say, 'Oh, Mommy! There you are!" Christopher's mom, Marquita Hackley, told ABC News today. "And then to hear him say, 'I saw my mom, and she was very pretty,' was so heartwarming. And aside from pretty, just the fact he could even see me meant the whole world to me."
ESight uses a small, high-speed camera that captures live video, which is then sent to a LED screen in front of the user's eyes, the network notes. 
Christopher was born with optic nerve hypoplasia, which means his optic nerve never fully developed before he was born. As a result, he "only has little light perception in his left eye and very, very low vision in his right eye," Hackley explained. 
G/O Media may get a commission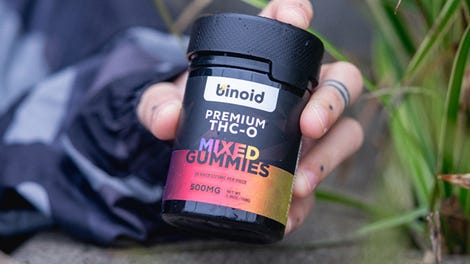 25% Off + Free Shipping
Binoid THC-O Gummies
"Something has to be up in his face, almost touching, for him to see it," she said. "And even though [he] wears glasses on a daily basis, they're more for protection than vision because there is a strong possibility he could lose the little sight he does have if he were to get hurt or hit on the face."
Hackley's insurance didn't cover the cost of eSight, so she created a crowdfunding page on the YouCaring site, asking for $15,000 to purchase the technology. Once the community got wind of her need, the story went viral and donations started pouring in. The donation page, which is now closed, raised over $25,000. Hackley noted that all the money over the cost of the glasses would be put into a trust for her son.  
"Christopher is just a very loving kid, always happy, and never complains about anything," she said. "I'll do anything to help get him what he deserves."
Read more at ABC News.