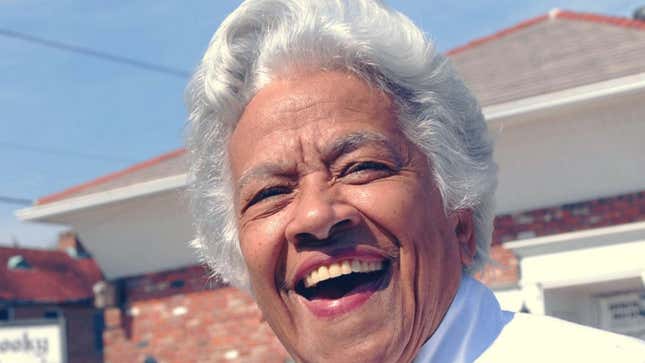 Leah Chase, iconic executive chef, civil rights activist, and co-owner of the legendary Dooky Chase's Restaurant in New Orleans, died Saturday. She was 96 years old.
American Ninja Warrior: Season 15 Is Our TV Pick of The Week
"Her daily joy was not simply cooking, but preparing meals to bring people together," Chase's family said in a written statement. "One of her most prized contributions was advocating for the Civil Rights Movement through feeding those on the front lines of the struggle for human dignity. She saw her role and that of Dooky Chase's Restaurant to serve as a vehicle for social change during a difficult time in our country's history."

Started in 1941, Dooky Chase's Restaurant quickly became the hub of the black community of the Treme. In 1946, Leah married Edgar "Dooky" Chase Jr., whose father owned the then- modest sandwich shop, check-cashing, and lottery ticket sales-place. With the help of Leah, over many years Dooky Chase's was transformed into an upscale yet unpretentious establishment, known for its collection of African American artwork adorning the walls; a first-choice for special occasions and, even more importantly, a safe space for people of all walks of life. As many patrons and food historians remember, Dooky Chase's endured threats, and even a pipe bomb attack, for the restaurant's presence as a place where blacks and whites would gather in peace together and break bread.
From Martin Luther King Jr., Mahalia Jackson, and Ray Charles to the Freedom Riders, Forever President Barack Obama, and many other influential luminaries, everyone knew Dooky Chase's as a destination where all were welcome. Leah Chase undoubtedly helped advance integration efforts and encouraged racial camaraderie.

The Glow Up was fortunate enough to speak to Chase last year, detailing the legend's impact on the community, food culture, and pop culture:
During the civil rights era, the upper room of Dooky Chase's was the spot where movement leaders held their planning meetings over a plate of her food. Ray Charles immortalized the restaurant in his song "Early in the Morning," and Disney used Chase's story as the inspiration for its first black princess, Tiana, in The Princess and the Frog. When Beyoncé filmed her iconic visual album, Lemonade, in the city, she featured Chase sitting in front of gold curtains on a plush chair fit for the Queen of Creole Cuisine.
According to the Gambit, Dr. Norman Francis, the former president of Xavier University, was the first black student to enter Loyola University Law School. In a 2012 interview, he remembered the world-class hospitality the Chase family restaurant offered when other places of business remained cold and uninviting:
"There was the pain of not being able to walk through the front door of a restaurant or a hotel, which was of course insulting to the human persona," he says. "But Leah kept the bright light on for all of us. When you couldn't go to some places, you could always go to Dooky Chase — and the food would be better there anyway."
After the announcement of Chase's passing, the social media outpouring of remembrance, and words of condolence for the family was immediate.
"Food builds big bridges," Chase said last year, according to NOLA.com. "If you can eat with someone, you can learn from them, and when you learn from someone, you can make big changes. We changed the course of America in this restaurant over bowls of gumbo. We can talk to each other and relate to each other when we eat together."
"Nobody has a guarantee upon anything, Chase told The Glow up last year. "You just live from day to day and live enjoying life, and always doing something for other people."
May you rest in peace and power, dear matriarch.
Correction: Sept. 15, 2019, 7 p.m. ET: This story has been edited to add fuller sourcing.