It's dinnertime in the dining hall of the famous New Orleans soul food haven Dooky Chase's Restaurant. Executive chef Leah Chase goes table to table with her walker, greeting and taking pictures with patrons who have come to dine on her world-famous fried chicken and gumbo.

The place is teeming with history; Dooky Chase's sits in Tremé, the oldest black neighborhood in the country, and nearly 80 years after it opened in 1941, it's still the place to be. Chase is as much of a reason for guests to come as her food.
Her 95th birthday was Jan. 6, arriving just as the city began celebrating its tricentennial. The culinary icon was just a few days shy of her own milestone when The Glow Up caught up with her.
As she makes her way back into the kitchen for a chat, she doesn't get far before an excited food blogger comes up behind her. Anxious but polite, he asks, "Please, Mrs. Chase, can I take a picture with you? We love you in Brazil!"
She happily obliges, turning around with her walker to pose for a photo. She's rocking a hot-pink jacket emblazoned with "Chef Chase" over the left pocket, a matching bedazzled cowboy hat and the widest smile. Chase loves every minute of these moments with guests—even as much as the ones she's had with legends from Martin Luther King Jr. to presidents, musicians and literary giants.
G/O Media may get a commission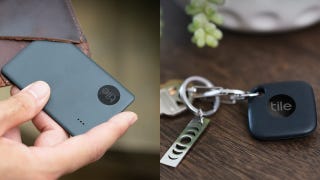 Up to 35% off
Tile Item Trackers
"You cannot say this one was better than that one," she tells The Glow Up about not playing favorites with her patrons, finally making it back to her seat in the kitchen behind a folding table piled high with papers and a pitcher of sweet tea.
She doesn't mention the time in 2008 when she fed Barack Obama and slapped his hand away when he tried to ruin her gumbo by putting hot sauce in it. I've heard the story from others in her orbit at least twice, and pictures of a black-haired Obama grinning with his bowl of gumbo and embracing Chase line the front of the restaurant.
"Everybody leaves you [with] a little something," she explains. "And if they succeed in life and you say, 'Oh, I fed them,' you feel good that you had some part of that life."
Chase has been impacting lives with her soul food since the middle of the 20th century. The former French Quarter waitress married musician Edgar "Dooky" Chase Jr. in 1946. Together, the two eventually took over the po'boy sandwich shop and bar that Dooky Chase Sr. and his wife, Emily, founded and turned it into a sit-down restaurant with Leah cooking the meals.
During the civil rights era, the upper room of Dooky Chase's was the spot where movement leaders held their planning meetings over a plate of her food. Ray Charles immortalized the restaurant in his song "Early in the Morning," and Disney used Chase's story as the inspiration for its first black princess, Tiana, in The Princess and the Frog. When Beyoncé filmed her iconic visual album, Lemonade, in the city, she featured Chase sitting in front of gold curtains on a plush chair fit for the Queen of Creole Cuisine.
For Chase, it's all in a day's work.
"Everybody can't be a leader. But everybody can follow and help a good leader," she says of her role in supporting James Baldwin, Mahalia Jackson and countless others with a good meal. "If you're just feeding them and talking to them and just encouraging them and ... pray a whole lot, pray that they come back and pray that they succeed … you're going to wind up winning."
Chase picked up that lesson of service from her father, a farmer in the 2.5 square miles of Madisonville, La. Before she made her way to New Orleans in the sixth grade because of the small town's lack of high schools for black children, Chase helped her father plant food for their family and neighbors to eat.
"He wasn't one to plant one little row to service his family," she says of her father. "He planted plenty so he could share it around. And he always told us that there were three things we have to do in life: pray, work and do for others."
Though Chase says there's no "secret" to living into her 10th decade on earth, her father's advice may hold the key.
"Nobody has a guarantee upon anything. You just live from day to day and live enjoying life, and always doing something for other people," she says.