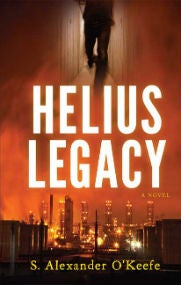 Corruption and suspense help describe the first novel by Orange County lawyer S. Alexander O'Keefe. Helius Legacy is a thrilling book surrounding a dangerous struggle over an oil-rich field on the outskirts of Austin, Texas. After coming across a long-lost deed for the lucrative piece of land, a reporter attempts to find descendants of the land's original owner while racing to avoid hit men commissioned by the property's current owners, Helius Legacy. 
Helius Legacy offers a unique take on the mystery novel, with a heavy legal theme that alludes to the author's 9-to-5 job. 
Previous recommendation: Yonnet, Wayna to Perform at Sickle-Cell Benefit.
Got ideas for The Root Recommends? Send them to recommendations@theroot.com.