Carey Gabay, 43, a lawyer advising the administration of New York Gov. Andrew Cuomo, was clinging to life after a gunman fired several shots into a crowd gathered early Monday morning before the start of the West Indian Day Parade in New York City.
According to the New York Daily News, Gabay was shot in the head as he and his brother were attempting to take cover. Police told the Daily News that they do not believe Gabay or his brother were the gunman's intended targets.
"He was caught in gunfire that he had nothing to do with. And there is nothing we can do, nothing the doctors can do, but pray," the governor told the Daily News after visiting Gabay in the hospital. "It is a personal, painful reminder of gun violence. And it has to stop. It just has to stop.
"I was just with the family, and the tears and the frustration. And I'm governor of the state of New York, and there's nothing I can say. And there's nothing I can do. And sometimes it just hurts," Cuomo said.
According to the Daily News, police believe that the gunman, who fired some eight to 10 times into a group of people gathered around 3:30 a.m. in the city's borough of Brooklyn, was aiming at rival gang members when Gabay was hit in the crossfire. Police told the Daily News that they believe they have found the gun used in the shooting but added that the gunman was still at large.
G/O Media may get a commission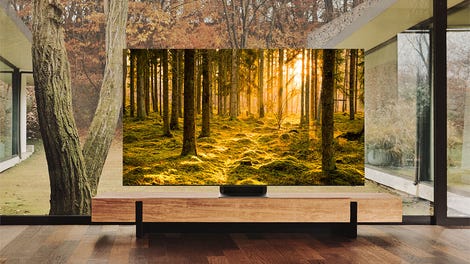 Up to 40% off
Samsung Smart TVs
Cuomo told the newspaper that Gabay was an example of a true American story, having worked his way out of the projects to attend Harvard. His wife, Trenelle Gabay, is pregnant with their first child.
"He was a good guy. He just didn't deserve this," Carey Gabay's brother Aaron McNaughton, 32, told the Daily News between tears. "If you asked for the shirt off his back, he'd give you the shoes on his feet."
Read more at the New York Daily News.