A lawsuit filed on behalf of eight former NFL players alleges that that league was so profit driven that it illegally administered narcotics and painkillers to mask severe injuries, the Associated Press reports. Those players are now claiming that the risky treatments have resulted in pricey and painful medical complications.
According to AP, which got an advance copy of the lawsuit before it was filed in U.S. District Court in San Francisco, the players allege that they were never warned of the side effects of the drugs they were given. They also claim that the league received the drugs illegally, without prescriptions, in an attempt to speed the recovery time of injured players so that the league could benefit by showcasing top talent.
Some players claim that they received pain pills instead of proper treatment for severe injuries, like broken legs and ankles. AP notes that one player alleges he was given anti-inflammatories and allowed to skip practices so that he would be game-ready. It is also alleged that another player retired from the league as a drug addict because of the access to free pain medications. 
"We have not seen the lawsuit, and our attorneys have not had an opportunity to review it," NFL spokesman Brian McCarthy told AP.
Although the lawsuit has been filed on behalf of eight players—whose most notable names include three members of the 1985 NFL champion Chicago Bears: Hall of Fame defensive end Richard Dent, offensive lineman Keith Van Horne and quarterback Jim McMahon—lawyers are hopeful that the suit can reach class action status. They have told AP that some 500 players have signed on to the lawsuit.
According to AP, "the lawsuit seeks class-action status for any former players who received narcotic painkillers, anti-inflammatories, local anesthetics, sleeping aids or other drugs without prescription, independent diagnosis or warnings about side effects or the dangers of mixing with other drugs."
G/O Media may get a commission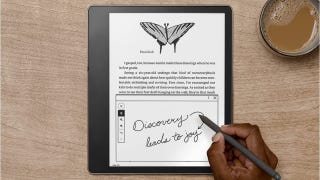 Releases November 30
Borrowing the display from the much-beloved Paperwhite, this screen provides a glare-free experience both indoors and outdoors so you can read by the pool or on the beach on a sunny day. New to this model is the inclusion of a pen. Take notes directly on the pages as you might in a traditional book, but the notes are automatically organized by title in a single place–letting you review and export them with ease.
The NFL recently settled another landmark case in which players who had suffered concussions claimed that the league masked the long-term effects and encouraged players to continue playing after suffering severe head trauma. The NFL settled that case last year for $765 million, AP reports.
In the current lawsuit, McMahon claims that after having a broken neck and ankle treated with pain medications, he developed a nasty addiction that, at its worst, had the headband-wearing quarterback taking 100 Percocet pills a month. He alleges that doctors never told him about the injuries and instead told him that he was fit to take the field. According to AP, players had access to pain medication through doctors who illegally obtained and administered the drugs without keeping notes.
Van Horne claims in the lawsuit that he was given pain drugs for an entire season while he played on a broken leg. He claims that league doctors masked the injury for five years and that during this time, he " … was fed a constant diet of pills to deal with the pain," the lawsuit says, according to AP.
The players are seeking unspecified financial damages as well as NFL-funded and -researched safeguards to prevent "addiction, injuries and disabilities related to the use of painkillers."
"The NFL knew of the debilitating effects of these drugs on all of its players and callously ignored the players' long-term health in its obsession to return them to play," Steven Silverman, attorney for the players, told AP.
Read more at the Associated Press.