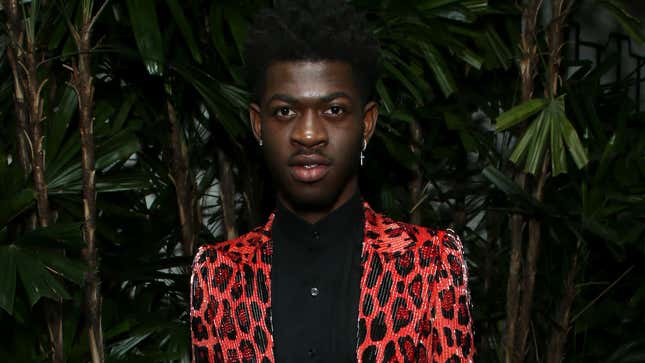 "Bloody shoes" may be Cardi B's line, but they may now be best associated with Lil Nas X. The rapper born Montero Lamar Hill broke the internet last Friday as he released the single for "Montero (Call Me By Your Name)," infuriating much of the evangelical set with his subversive and highly strategic use of Christian themes and iconography in the accompanying video. Those who got it, got it. Those who didn't, spent the next few days screaming about Sodom and Gomorrah—and no doubt Candace Owens was solely focused on trying to work "vagina" into the conversation.
While the unnecessarily outraged (who've apparently conveniently forgotten Madonna's "Like a Prayer era or Nicki Minaj's more recent "Roman Zolanski" phase) worked their rosaries into a twist, Lil Nas X doubled down. Proving that the marketing genius that made "Old Town Road" a runaway hit was no fluke, over the weekend, it was revealed that he'd partnered with streetwear brand MSCHF on a limited run—666, to be exact—of custom Nike Air Max 97s dubbed "Satan Shoes." Released Monday, each reportedly has a very special feature: human blood.
Per NBC News, "The controversial kicks—apparently modified Nike Air Max 97s—are decorated with a pentagram pendant and a reference to Luke 10:18, a Bible verse about Satan's fall from heaven. They'll be sold for $1,018.
"The sneakers also contain a drop of human blood in the sole, drawn from members of the MSCHF team, the company told NBC News on Sunday," the report added.
Talk about committing to a theme...Sunday happened to be Palm Sunday, making this pointed statement about the ongoing religious persecution of the LGBTQ community one not to be missed. It should also be noted that MSCHF previously released a "Jesus Shoe" (also a Nike) to far less fanfare, despite the kicks reportedly containing blessed water from the River Jordan, and therefore created to allow the wearer to "walk on water." But as we know, common sense ain't all that common, so it should come as no surprise that it was Nike that caught a fair share of the backlash against Lil Nas X, despite having no involvement in the shoes' production.
"We do not have a relationship with Little Nas X or MSCHF," Nike said in a statement to NBC News. "Nike did not design or release these shoes and we do not endorse them."
Always one to satisfy the fans, Lil Nas X addressed the controversy himself on Sunday, releasing a YouTube video titled "Lil Nas X Apologizes for Satan Shoe," in which he appears to begin to do exactly that—before jump-cutting to "Montero's" epic lap-dance-with-the-devil scene. Don't know what we're referring to? Join the over 30 million viewers who've watched since Friday—we can't all fit in Hell.