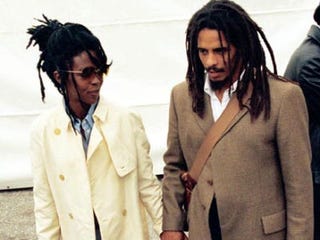 Lauryn Hill gave birth to her sixth child the same week that Twitter-fueled rumors broke that Rohan Marley (the father of her first five) was leaving her for a Brazilian model. She has now issued a statement to clarify things and do some repair work on her on-again, off-again romantic partner's rep:
Mr. Marley and I have a long, complex history in which MANY inaccuracies have been reported since the beginning. To speculate without the facts can only cause people to form WRONG conclusions. We both value privacy and for that reason defend and preserve our right to it. Contrary to the numerous reports, Mr. Marley did not abandon me while pregnant with his child. We have long periods of separation over the years but our 5 children together remain a joy to both of us. Thank you for your concern and I appreciate all of the well wishes regarding the birth of my new son.
Until next time,
Ms. Hill
Since Lauryn mentions five children together versus six, it seems that she and Rohan agree that he's not the father of her newest addition (he's denied paternity, the Washington Post reports). We guess this means the new baby won't be the next star to become part of Bob Marley's living legacy.
Check out Rohan and Lauren's oldest daughter in The Root's gallery of the reggae icon's children and grandchildren.
Read more at the Washington Post.
In other news: VIDEO: Oakland Teen Sings Chinese Opera.