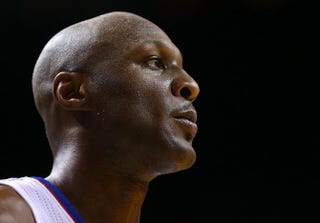 Lamar Odom, the former Lakers and Clippers forward and the husband of Khloe Kardashian, was sentenced to three years of probation and three months of alcohol-abuse treatment, following a "no contest" plea on Monday, the Los Angeles Times reports.
The basketball player must also pay almost $2,000 in fines.
Odom was arrested in late August by the California Highway patrol for driving under the influence. According to officers, he was driving in a "serpentine manner" and continued driving even as officers tried to pull him over.
He refused during the traffic stop to take a blood or alcohol test, a decision that usually automatically results in one's license being revoked for a year, the Times notes.
Read more at the Los Angeles Times.