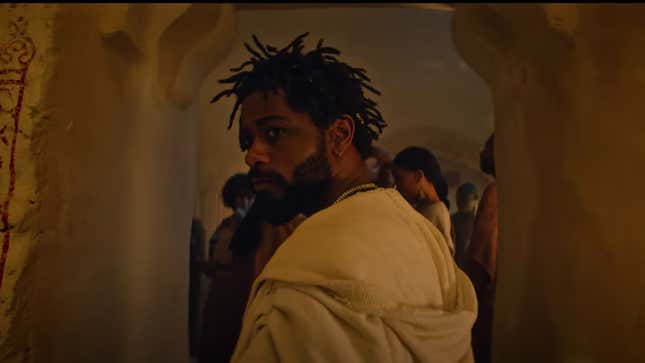 As one Atlanta rapper once cautioned: "they do anything for clout." And when it comes to the upcoming new film The Book of Clarence—from The Harder They Fall director Jeymes Samuel—the "they" in this instance is doing it for clout of biblical proportions and we might ought to be weary of his ways. Let me explain.
Kelly Rowland and Marsai Martin On Their New Film "Fantasy Football"
In a new trailer released on Tuesday, LaKeith Stanfield (who also starred in THTF) is the titular character Clarence, a streetwise but down-on-his-luck man struggling to find a better life for his family all while fighting to free himself of debt. Captivated by the power and glory of the rising Messiah and His apostles, he risks everything to carve his own path to a divine life, and ultimately discovers that the redemptive power of belief may be his only way out.
In one part of the trailer, Clarence and his friend—played by RJ Cyler (The Harder They Fall, Rap Sh!t)—gaze upon the Messiah, whose face just happens to be cloaked in sunlight.

"You can't even buy power like that," Cyler's character says. "I want to be like that in 10 years." To which Stanfield's Clarence responds: "I want to be like that now."
Therein lies the premise: after seeing how much influence and prestige Jesus of Nazareth is gaining, Clarence devises a plan to convince the townspeople that he is Black Jesus sent to deliver divine messages from the Lord. Of course, unlike the real Jesus, Clarence's god-centric grift only has one purpose: to line his pockets and make a name for himself, saved souls be damned (literally). But like the last film from Samuel, there will more than likely be some sort of twist near the end that flips the story on it's head and makes it even more of a satisfying watch than the trailer lets on.
However, it should be noted here that swindling good people out of their house, homes and livelihoods under the guise of being Black Jesus, or more broadly, the guise of religion in general has rarely led to positive outcomes. We've seen it time after time where religious leaders let the power, greed and position get to their heads, prey on people's naivety and good intentions, and ultimately use it for destruction (Honk For Jesus, ring a bell?)
Yet and still, both Samuel and Jay-Z (yes, that Jay-Z) assure viewers that the film is more about what it looks like to have a desperate desire to leave an impact and an individual's deeper connection to inner and outer belief. Speaking to Vanity Fair about the forthcoming feature, Samuel said of the biblical epic:
"Clarence is a person that doesn't believe in anything outside of what's in front of him, what he can see and hear. Clarence has a lot of inside belief—he has a lot of inside confidence. This man is sure he could fly. He reminds me of me growing up, but unlike me, he has no outside faith. I think it's just a really interesting vantage point to explore living in that particular time and place, where most everyone around him is speaking about the Messiah."
Added the 4:44 rapper, who is producing and creating new music for the new film (as he did with THTF): "This story is about a young man who finds his faith through love and through wanting to become somebody in the world, which is the story of everybody. Everyone wants to find love and everyone wants to leave this place having accomplished something, having left their mark that they've been here and hopefully affected the world in a positive way."
The Book of Clarence hits theaters Jan. 12, 2024.