An 18-year-old Mount Washington, Ky., high school student is facing multiple charges after allegedly hurling racial slurs and using a pole with a Confederate flag attached to it to bash the car of a fellow student, WDRB reports. A second student is charged with harassment in the incident, which happened last Friday.
Tabitha Perkins told the news station that her 17-year-old biracial daughter was the victim of the crime, allegedly carried out by two former friends. 
"She was standing in the middle of the road, waving the rebel flag, calling her the n-word multiple times," said Perkins, referring to the young woman charged in the attack. Perkins characterized the incident as a hate crime. 
Hayleigh Blevins, 18, faces charges of criminal mischief and menacing. The arrest warrant indicates that Blevins called Perkins' daughter racial slurs "while repeatedly hitting the victim's car with a pole attached to a Confederate flag." 
"It was over a thousand dollars' worth of damage done to the car," Mount Washington Police Detective Dan Kelty said.
Authorities said the flag came from the truck of a second student, 18-year-old Nicholas Chapman, who has been charged in the incident with harassment for allegedly calling the 17-year-old names and bumping into her. 
G/O Media may get a commission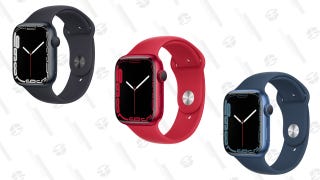 Up To $45 Off
Apple Watch Series 7
Blevins' stepdad told WDRB that the incident had nothing to do with race, describing it as just simple teenage-girl drama. 
Read more at WDRB.