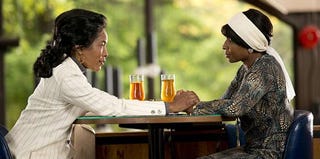 Some in the families of Coretta Scott King and Betty Shabazz say that Lifetime's made-for-TV movie Betty & Coretta, which aired on Saturday, is not based in truth, reports the Washington Post.
Though she applauds Lifetime's efforts for recognizing an important era, Ilyasah Shabazz, 50, one of the six Shabazz daughters, strongly emphasizes the film is "fiction." …

"My mother was not a weak, timid, insecure woman as portrayed," Shabazz said. "She was regal, compassionate, strong, loving, beautiful, resilient and highly educated. That is why the Delta Sigma Theta sororities named academies all across this country after her, so others could be inspired how to turn [tragedy into triumph]."

Even what might appear as small details to others bothered Shabazz as they obscured deeper meaning.

"My mother did not tie a scarf to her face as she was shown wearing in the film," she said.

In her book, "Growing Up X," Shabazz detailed why her mother's refusing to cover her head as expected for a Muslim woman, was a statement stressing her independence, which I believe was as significant as King refusing to pledge to "obey" her husband in her wedding vows in 1953.

"If only Lifetime had consulted us, the sisters, maybe this would be more than fiction. I am not pointing my finger solely at them, but it must be our responsibility to ensure history is properly documented," Shabazz said.
Read more at the Washington Post.
Like The Root on Facebook. Follow us on Twitter.