It's always nice, amid today's political climate, to know there's still hope left for humanity. Most recently, a kind Illinois IHOP waiter went viral after he was photographed helping a customer who has Huntington's disease eat.
Another customer, Keshia Dotson, snapped the photo from her seat a few tables away.
"She was coughing and then would gag really loud, almost like she was choking," Dotson told CBS News. "The first time she did it, almost the entire restaurant went silent, and he cracked a joke and reduced the tension. It wasn't long after that that we noticed him sitting down with her and helping feed her and, once she was done, get her all cleaned up."
The waiter's name is Joe Thomas. Dotson posted the picture to the IHOP Facebook page, telling the company how impressed she was by Thomas' service. That picture got several likes, comments and shares, including remarks from people who knew Thomas personally.
G/O Media may get a commission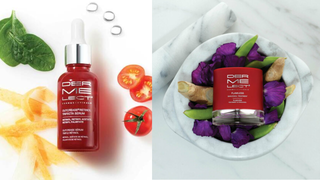 Save $19
Retinol Renewal Kit
"This is no big deal for him. He does this every time," IHOP employee Amanda Williams commented. "He's an awesome co-worker."
According to CBS News, for the past 11 years, Thomas has worked at the same Springfield, Ill., restaurant and knows all his "regulars" by name.
"I love the people," Thomas told the network. "I just love my life, and I love the way I am."
CBS notes that Thomas came to know the woman with Huntington's disease, as well as her husband, both of whom visit the IHOP at least once a week, and he noticed that the woman's husband—who is also seen in Dotson's photo enjoying his meal—would always feed her first, basically allowing his own food to go cold.
Then one day the caring waiter decided to step in, waving away her husband and cutting up her eggs and feeding them to her.
"I didn't really offer. I just started doing it," Thomas said. "I told the gentleman to 'Sit down, eat your food. I got her.'"
The man accepted Thomas' offer, and basically from that day on, it became the trio's routine.
"I really treat people like I want to be treated," Thomas said. "If I get to be that age and something happened to me, I would want someone to help me out."
IHOP Executive Director of Communications Stephanie Peterson told the network that she had heard through the franchisee and the team that this behavior is "kind of in [Thomas'] nature."
"He's always willing to help regular guests that come in," Peterson said. "This just happened to be captured."
Thomas is apparently used to being a caretaker, having worked in a rehabilitation center for about a year prior to starting his job at IHOP. His mother died of diabetes, and his father was diagnosed with prostate cancer.
"I have a soft heart," Thomas said. "Everything I do is honestly just natural, besides the way my parents raised me. I don't think about it. I just do it."
Read more at CBS News.