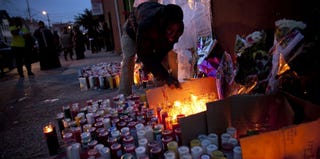 Sgt. Mourad Mourad and Officer Jovaniel Cordova, the two New York City police officers who shot 16-year-old Kimani Gray, have had a number of civil rights lawsuits filed against them, reports the New York Daily News.
Sgt. Mourad Mourad racked up three suits while he was a plainclothes cop on Staten Island, and Officer Jovaniel Cordova racked up two at Brooklyn's 70th Precinct — all alleging various civil rights violations including illegal stop and search and false arrest.

Prosecutors later dismissed all but one of the arrests against the six plaintiffs, and the criminal cases were sealed.

Mourad and Cordova had been placed on desk duty while the NYPD and the Brooklyn district attorney's office continue to investigate the circumstances surrounding the March 9 shooting in East Flatbush that has since sparked riots. Police Commissioner Raymond Kelly has said Gray was shot after he pointed a .38-caliber revolver at the sergeant and cop, who had approached a group of youths on the street.

A woman who told the Daily News she witnessed the shooting from her apartment window said Gray did not have a gun in his hand. But she previously told Internal Affairs investigators she couldn't see what the kids were doing "from the angle I was at."
Read more at the New York Daily News.