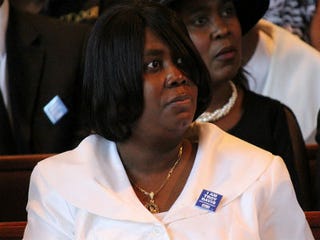 Troy Davis was executed last year following his conviction in the 1989 murder of Savannah, Ga., police officer Mark MacPhail. But his death hasn't deterred his sister Kim Davis from trying to clear his name, in what she believes was a wrongful arrest, conviction and execution, reports CNN.
"The fight was bigger than Troy," she told CNN. "We're fighting against the system."
Nothing she does will bring her brother back; there can be no more hearings in court. But if she keeps digging, maybe one day she will find a clue. Maybe one day someone will say something that will convince everyone that her brother did not kill.
She believes Georgia executed an innocent man. She cannot hide her deep disappointment in the justice system.
Over the past year Davis has buried two other family members in addition to her brother. Her sister, Martina Correia, and mother, Virginia Davis, didn't live long enough, she says, to hear Troy's name cleared. But as she travels across the country speaking to groups about the anti-death penalty events, often wearing "I Am Troy Davis" T-shirts, she's vowing to keep up the fight as long as she breath in her lungs.
Davis is not alone in that fight. Antone De'Jaun Davis-Correia, a nephew of Troy Davis and one of The Root's 25 Young Futurists, is working alongside her in trying to abolish the death penalty.
Read more at CNN.