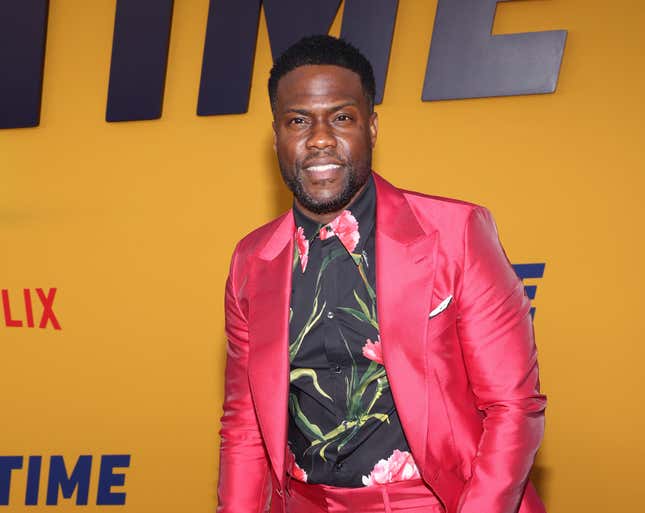 I recently got on a roller coaster for the first time in 20 years. A second before take off, my body said, "What the hell are you doing?" A few minutes later, the answer was "forgetting my old ass place." My body was wrecked for most of the day, because I forgot I was a middle aged woman who doesn't do crazy shit anymore. Apparently, Kevin Hart had to learn the same lesson, but his came with a much higher price.

Michael Oher On New Book, NFL, The Jets, Aaron Rodgers, Running Backs Contracts & He Sings!
On Wednesday, the actor/comedian released a video on Instagram explaining that he was in a wheelchair because he forgot he wasn't a young man anymore. "44 and sitting my ass down!!!!! I got to be the dumbest man alive!!!!! What the fuck am I doing???? I blew my shit….I'm done. FML," he wrote in the caption.
In the video, the Central Intelligence star revealed that the situation all started when he bet a friend of his that he could beat him in a race. The problem is, the friend is former NFL player Steven Ridley.
"To all my men and women out there that are 40 years old and above. It's not a game, respect that age," he said. "Respect that age, or that age will make you respect it. I was just forced to respect it. This is just a public service announcement because I know people may see me out. And I don't want you to be alarmed, but I'm in a wheelchair."
"I'm in a wheelchair. Why? Well, because I tried to jump out there and do some young stuff," Hart continued. "This debate was based off who's faster. Those that know me know, I'm pretty fast. Stevan said, 'Kevin, ain't no way you're gonna beat me.' Stevan is an ex-NFL running back. Played for the New England Patriots. Very good guy."
They proceeded to run a 40-yard dash, during which Kevin says he blew "all my shit." Now the Ride Along actor "can't walk" because he tore several muscles in the lower half of his body.
"I tore my lower abdomen, my abductors are torn," he revealed. "I don't know what that is but I tore them. I tore those too. I can't walk."
Here's something I've never said before: Kevin Hart is right. There is no need for grown ass folks to be out here trying to relive the glory days like they're not in their 40s and 50s. He forgot his old ass place and now he has plenty of time to rethink all his life choices.
"What are we competing for at this age? What am I doing? Why did I even race? Stupidest shit ever, now I can't walk, because I was somewhere trying to get the title of the fastest nigga at the barbecue."
Well Kevin, as the saying goes, "Play stupid games, win stupid prizes."