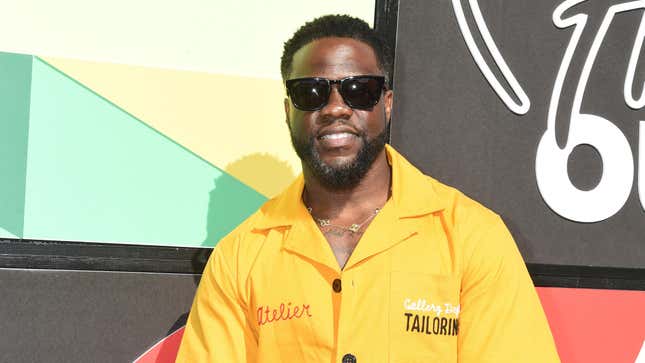 After nine years, BET's Comic View is coming back, but this time, with a whole lot more hart—Kevin Hart, that is.
Debra Lee On Greenlighting BET Hits Being Mary Jane & The Game | Securing the Bag: Part 2
Announced on Friday, the popular show will be making its grand return during the comedian's Hartbeat Weekend in Las Vegas this weekend. Produced by Hart and hosted by Mike Epps, episodes will be taped in front of a live audience and will feature comedians like Tommy Davidson, Tacarra Williams, Tony T. Roberts, Bresha Webb, D.C. Young Fly, and rapper Tip "T.I." Harris—who'll be making his televised comedic standup debut—and more. There's no word yet on the exact date that these performances will be aired on BET.
Attendees for the weekend will also be able to take part in several live podcast tapings as a part of Hartbeat's SiriusXM channel, Laugh Out Loud Radio, including Straight From the Hart, Quake's House hosted by Earthquake, Love Thang with Punkie Johnson, and the live debut of One Song with Diallo and Luxxury, with Diallo Riddle and Blake "Luxxury" Robin.
"I'm thrilled to partner with BET for the return of 'Comic View' as part of Hartbeat Weekend making this can't-miss celebration of comedy, music and culture," Hart said in a statement. "Having hosted 'Comic View' in the past, I understand first-hand the incredible platform this franchise offers for comedians to showcase their talents on a national stage and I'm excited to continue that tradition in Las Vegas."
BET CEO and President Scott Mills echoed similar sentiments, adding: "Over 30 years ago, 'ComicView' set the footprint for stand-up specials and launched the careers of some of today's mega-comedy stars. We can't wait to see this new group of talented and rising comedians. We are so proud to work with this all-star production team, including Mike Epps and the impressive roster of talent that will bring you the best comedy you'll see all year long."
Airing in 1992 as the premiere showcase for up-and-coming comedians from across the country, "ComicView" was one of the most influential comedy platforms, for elevating talent into the national spotlight. After having gone off the air in 2008, it returned for four months in 2014.
With today's conglomerate of both traditional stand-up comedians, comedic actors and social media comedians—this new iteration of Comic View could be the start of something fresh and progressive for this new crop of talent. Are you here for it?