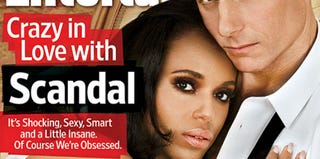 A little something to keep fans of ABC's Scandal going until Thursday's episode: Kerry Washington and Tony Goldwyn — who plays President Fitzgerald Grant on the political drama — are on this week's Entertainment Weekly cover.
Inside the magazine are some teasers from Executive Producer Betsy Beers. Apparently things are going to get more intense (if that's possible). "If people think we're burning through story now, they're going to be very shocked at what happens in the next few episodes," Beers said.
Read more at Entertainment Weekly.