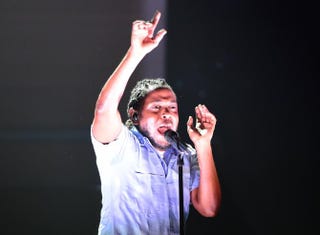 The Rock and Roll Hall of Fame announced on Twitter Monday that Kendrick Lamar will induct N.W.A into the organization at the Barclays Center in Brooklyn, N.Y., this April.
N.W.A will join Cheap Trick, Chicago, Deep Purple and Steve Miller as this year's inductees. K. Dot will join presenters Kid Rock, the Black Keys, Metallica's Lars Ulrich and Matchbox Twenty's Rob Thomas, who have also been tapped to give speeches at the April 8 event.
Lamar has paid homage to the seminal rap group, including in an August Billboard cover story in which he interviewed the profane West Coast trailblazers.
The ceremony will be broadcast on HBO on April 30. 
Watch Lamar interview N.W.A below: