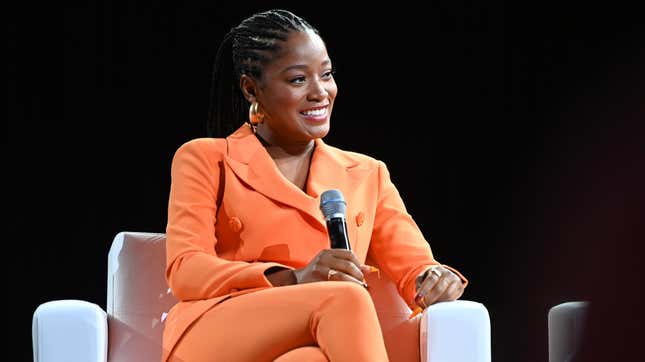 Thanks to her latest venture, Keke "Keep A Job" Palmer continues to show us all why she garnered that nickname. On Friday, the Nope star announced the launching of her new digital network, KeyTV.
Handmade Eyelashes by Black-Owned Minx + Mane Is Our Swag of the Week
In the nearly two-minute long introduction video posted to her social channels, Palmer pops up onscreen before introducing her double, Keke—"a brand she built over 20 years ago with her mom back in Illinois," she says. She then goes on to share the lessons she's learned along the way through the different lanes she's occupied, thanks to that highly successful brand: actress, singer, and director. But this new lane is one that may arguably end up being her most influential one yet.
"Most importantly, I learned how to be a collaborator and I want to share everything I learned with you," Palmer says. "Because this is my greatest dream of all. All it takes is one of us to unlock a door to unlock a million doors for each other. I'm so excited to introduce you guys to KeyTV, where our stories matter and where we are representing as the keys to the culture."

While not much is known yet about the types of content that'll be present on KeyTV, per it's official social media sites, the new digital platform positions itself to be one dedicated to "spotlighting a new generation of creators."
There's no doubt that when it comes to Black women in entertainment who are, and continue to do the damn thing, Keke Palmer's name is in the top five. Along with women like Issa Rae, Quinta Brunson, Marsai Martin, Michaela Coel and more, the 29-year-old has consistently tapped into culture and leveraged that for bigger and better opportunities for herself and others is nothing short of inspiring. I can't wait to see what Keke Thee Collaborator and KeyTV have in store for the rest of the world.