(The Root) — Articles like this one probably annoy Kanye West. Attempts to analyze the litany of quotables that tumble out of his mouth during any given interview are nothing but white noise to the hip-hop star, who in a recent sit-down with the New York Times, dubbed himself an "anti-celebrity" — and also the next Steve Jobs.
"I don't have some type of romantic relationship with the public. I'm, like, the anti-celebrity, and my music comes from a place of being anti," said West who suggested that his 2010 album, My Beautiful Dark Twisted Fantasy, was a "backhanded apology" for his now infamous appearance at the 2009 MTV Video Music Awards.
By definition, the anti-celebrity, like the anti-hero, has none of the qualities that the root noun would suggest. Celebrities are fame-obsessed, egocentric and braggadocious. By contrast, a self-described "anti-celebrity" like West is fame-obsessed, egocentric and braggadocious. Wait?
In an ever-expanding Twitterverse where the #KanyeShrug is now ubiquitous shorthand for apathy in the face of other people's problems (as in West's indifference to country singer Taylor Swift when he bogarted the microphone from her at the VMAs), West's sly rejection of the byproducts of celebrity seems phony, something to simply shrug off. Kanye gets a *kanyeshrug*.
As West doggedly hunts down recognition — or "justice," as he calls it; continually refers to himself in the third person, like an educated Tarzan; and then shrewdly inserts himself into his own Hall of Fame, along with basketball great Michael Jordan, Apple founder Steve Jobs and music mogul Jay-Z, it's pretty clear that he is no anti-celebrity. Just a celebrity who has found his specific brand of celebrity rooted in being the bad guy. The anti-hero. The guy who wins even when it looks like he's losing — his grounding, his humility, his mind. 
G/O Media may get a commission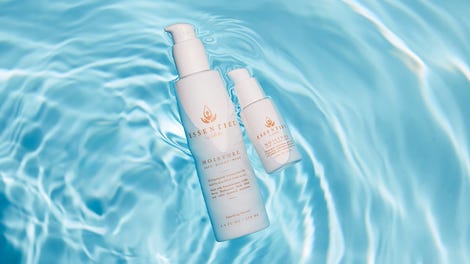 20% off
Essentiel by Adele
Throughout the interview, West drops heavy stones to be thrown at his own glass house, shattering the silly suggestion that he is anti anything related to the "Kanye West" mythos.
"I don't know if this is statistically right, but I'm assuming I have the most Grammys of anyone my age, but I haven't won one against a white person," said West, in a quote that implies he actually puts stock in the award. Although in the same stream of consciousness, he dispels that notion: "But the thing is, I don't care about the Grammys; I just would like for the statistics to be more accurate."
Later, when asked if he had any regrets concerning the Swift incident or if it, at the very least, taught him something, West replied thusly: "It's only led me to complete awesomeness at all times. It's only led me to awesome truth and awesomeness. Beauty, truth, awesomeness. That's all it is."
"So no regrets?" asked Times reporter Jon Caramanica.
"I don't have one regret," said Kanye.
"Do you believe in the concept of regret?"
"If anyone's reading this waiting for some type of full-on, flat apology for anything, they should just stop reading right now," said Kanye in a breaking-the-fourth-wall moment that again speaks to the rapper's incessant awareness of the audience.
Sure, it's a funny wink and nod to speak directly into the microphone, or past the paper, and into the crowd. It's so Kanye, so anti, so other. But the acknowledgment of the farce — punching home the fact that we aren't eavesdropping on an intimate conversation between friends — is part of "the Kanye West formula." A formula that makes this indisputably talented musical artist just as talented at creating his own persona.
Because if Kanye really is "the nucleus," as he decrees at the end of the Times interview, then he is the center of his own universe, responsible for the conscious creation of an image that is as tied to his fame as it is to his genius.
Helena Andrews is a contributing editor at The Root and author of Bitch Is the New Black, a memoir in essays. Follow her on Twitter.
Helena Andrews is a contributing editor at The Root and author of Bitch Is the New Black, a memoir in essays. Follow her on Twitter.