Something strange happened to me while reading GQ's August cover story on Kanye West: I realized I didn't care and couldn't wait for it to be over. 
I'm not sure when this wave of can't-be-bothered-ness happened, but suddenly, whenever I hear Kanye talk about how awesome he is, I find myself wanting to do other, more interesting things. Like become an A-list celeb character on Kim Kardashian's new video game, perhaps. 
Sure, conventional wisdom—"He's a genius"—and the number of outlets running the obligatory "Awesome Things We Learned From Kanye's Interview" stories will say otherwise, but Kanye has devolved from provocatively perplexing to exhaustingly boring. 
And his GQ interview was rife with nothingness. Who truly cares about Kanye's unsubstantiated claims of how many Balenciaga sneakers are sold because of his influence? 
Did it move you to hear him talk about how game-changing it was that (gasp!) other influential celebrities came to his and Kardashian's wedding?
G/O Media may get a commission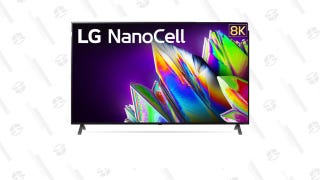 LG 75-Inch 8K TV
It was all very much "been there, done that."
I couldn't help but feel like I was hearing my favorite corner-store drunk tell me for the hundredth time about that epic summer in '76 when he and Blacula played a round of spades at his family reunion. Sure it was a compelling story once upon a time, but now I just want to blurt out: "Yeah, I know, mang—you already told me that one."
So when did we arrive at corner-store Kanye?
Maybe it was during that bizarre stream of radio interviews last year, when he made it clear he was more interested in gaining the approval of the high-fashion world and a seat at the CFDA table than, you know, not squeezing out half of Yeezus in two days.
Or those ridiculous concert rants where he compared himself to Steve Jobs, Walt Disney, fried chicken and every other American stroke of genius that's so far transcended society.
Perhaps it was swearing that his new agency, Donda, was changing the design world, even though no one really knows what Donda is, or wants to invest in it.
Whenever it first happened, here's where we are: Kanye bottles his conceit and ridiculousness like a 40-ounce of Old English, and soapboxes to whoever will listen. 
We've reached the point where Kanye is more concerned with telling us how awesome he is than showing us. 
But here's the thing: Pop culture is a game of currency, with a "what have you done for me lately" modus operandi. So it's interesting that the celeb most obsessed with his relevancy (and reminding us of it) is slowly alienating himself from the public conversation. 
He's always been the kooky industry pariah—it was an organic facet of his true personality that endeared him with the masses. And his eccentric proclivities were reflected in the music and fashion pillars that define him: He veered outside the lines and we followed, interested in the organic and palpable musical innovations he once so consistently delivered. But right now? That sense of adventure and newness with Kanye is gone.
Now Kanye is more concerned with outlandish, convoluted claims of his own cultural importance and relevancy. At first it was sort of entertaining, with 'Ye giving us sound bites for the ages. But no meme lasts forever. The only way you're going to stay relevant—and revered—as a great creator is to actually create.
A few weeks ago at the London Wireless music festival, Kanye paused for his now-signature midconcert corner-store rant. For 10 minutes he soapboxed about his high-fashion hurt feelings and his own greatness. But then something happened that didn't used to … the crowd booed. Loudly. They, like me, were fed up and trying to let Kanye know that they wanted less talk and more show. That other stuff is old news. And it's boring.
Aaron Randle is a Howard-bred writer living in Kansas City, Mo. Follow him on Twitter.
Aaron Randle is a Howard-bred writer living in Kansas City, Mo.